Aquino emerges and Reyes roams: Five thoughts from Mexico's win over New Zealand
Mexico labored for a victory against New Zealand but eventually got the result.
Jimenez, Peralta rescue overconfident Osorio
Now, just a draw against host Russia will see El Tri into the semifinals of the Confederations Cup. Before we take a look at that deciding match, let's look back at five thoughts from Wednesday's 2-1 win over the All Whites:
---
Aquino one of few bright spots
---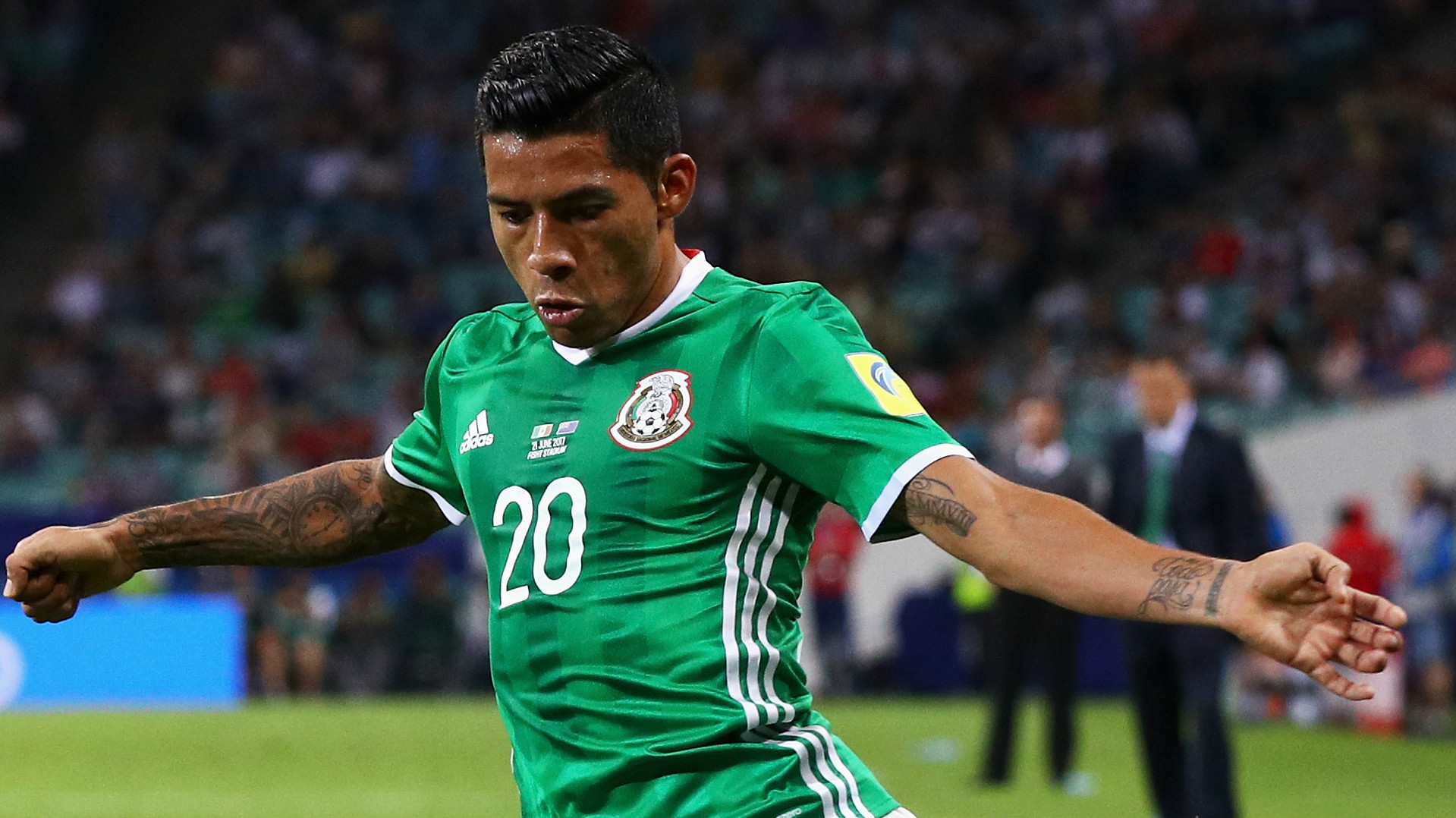 Of the eight changes Mexico coach Juan Carlos Osorio made from Mexico's tournament-opening draw against Portugal, there was no doubt the player who performed best was Javier Aquino. The winger's speed is often overshadowed by club and country teammate Jurgen Damm (who eventually found some inroads on the right) but he blew past defenders and provided nearly all Mexico's attack in the first half.
Even as the team found more possession after Hector Herrera's entrance in the 45th minute, it was Aquino who set up both goals in the second half. His pass found Marco Fabian who got the assist on Raul Jimenez's fine finish, and it was Aquino himself getting to the line and cutting back to Oribe Peralta for the winner.
"Forwards like to score against anybody, but everything is because of the team's work," Peralta said after the match. "I have to point out the performance of Javier Aquino, who was impressive. He made both the goals."
Ratings: Aquino gets top marks
While it was great for Mexico to see the Tigres winger break out in the national team shirt, there also has to be a cloying feeling of frustration. Another winger? On this team? Of all the places on the field where Mexico coach Juan Carlos Osorio would've been praying for someone to prove they belong at the top level, Aquino's position is the last one Osorio would've picked. Jesus Corona and Hirving Lozano are ahead of him on the depth chart, while Raul Jimenez and Giovani dos Santos also can play in that spot.
Still, you can never have too many options and Aquino showed that he's a good one either as a starter or a substitute going forward.
---
Defensive depth now a concern
---

Injuries to Carlos Salcdeo, whose tournament is over after suffering a shoulder injury Wednesday, and Hector Moreno, whose status Mexico was set to update Thursday, have a Mexico defense that already had questions looking quite thin.
Salcedo was Mexico's make-shift right back but no longer is available. That means Osorio's options likely are to play left back Miguel Layun on the right and either bring Luis Reyes into the starting lineup or again try out Oswaldo Alanis. While Alanis put in an excellent game against Honduras, playing in his typical position, the Chivas center back struggled at left back against the United States and in a back three against New Zealand. We also could see Diego Reyes pressed into duty at right back.
Moreno's blow would be big not only because he's Mexico's best defensive player but also for the way he starts attacks with his left foot, either playing between the lines to a midfielder or finding Carlos Vela on the right wing with a cross-field ball. 
---
Reyes on the roam
---

After Diego Reyes started Wednesday's match wearing the captain's armband and playing in midfield, he moved into central defense after Hector Herrera came on for Oswaldo Alanis at the break before sliding to the left side to close out the game after Rafa Marquez entered the match for the injured Hector Moreno. That meant the 24-year-old played in three different positions during the victory, an impressive feat, though he was overwhelmed in his role protecting Mexico's back three in the first 45 minutes.
"When the manager needs us, we're always going to be available," Reyes said after the match. "The position changes didn't affect me, on the contrary. This speaks well of the manager, that he has confidence in us no matter the position."
In a sense, both Reyes' value and his detractions for the national team were on display Wednesday. He can move around and fill in all over the field, yet he's yet to settle in at any position and truly make his mark. It looked like he might be feeling at home as the right center back next to Moreno, but with Moreno's status unclear and Nestor Araujo pushing for minutes as well, that spot might not be his long-term. Osorio clearly likes Reyes and keeps putting his faith in him but without some sort of consistency it may be difficult for the player to live up to the coach's high expectations.
---
Squad selection a larger issue?
---

The issues with Wednesday's XI didn't start Wednesday, they started a month earlier – maybe more. While Jonathan dos Santos, Andres Guardado and Hector Herrera all can fill in when needed and Diego Reyes has played the position before, the Mexico squad doesn't have a true holding midfielder in it.
Jesus Duenas' personal issue after the Liga MX final and his subsequent lack of preparation with the team saw him named to the Gold Cup team. But one wonders why there wasn't space for Jesus Molina or even Jorge "Burrito" Martinez, who stood out in El Tri's friendly against Ireland, in the Confederations Cup squad. Especially with Salcedo now out of the tournament because of injury, Duenas would've not only given the roster a hard-nosed central midfielder but he also can deputize at right back.
The 3-1-4-2 may still have finished as a failed experiment, but perhaps a player who can cover more ground and is more accustomed to starting attacks than Reyes would've made it function a bit better. Hector Herrera stepped in and, with a more settled back line behind him, restored order to Mexico's ball movement. Osorio surely will start Dos Santos against Russia after he helped control the midfield in the first game against Portugal, but why he didn't bring Duenas or Molina to Russia is a topic worth exploring.
---
Osorio has his players' backs
---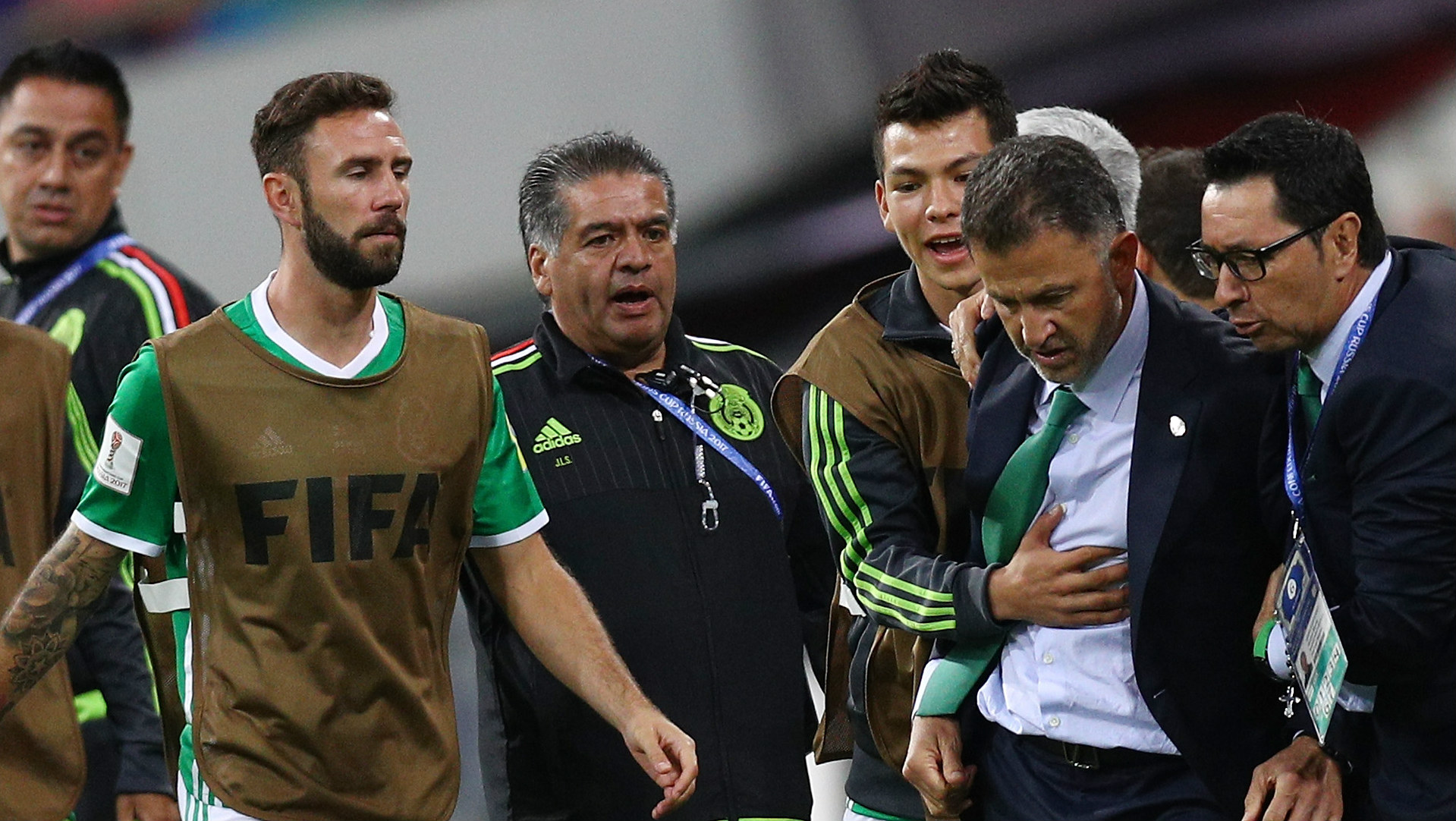 The criticisms weren't overly loud, but in a country where no decision by the national team coach goes without a critic somewhere piping up, it was there. Osorio allowing Hirving Lozano to fly to the Netherlands to strike an agreement with PSV was seen as some sort of sign that the players weren't all pulling in the same direction, that Lozano didn't have respect for El Tri and that the players were running the system. Then, when Osorio made eight changes, many of the same critics said the rotation systems are all about Osorio showing the world how smart he is.
Well, the changes didn't work, so if that's the case Osorio will have been humbled. More likely is that he believes both in letting his players find a situation that will bring the best out of them (Lozano's club situation was well managed by the player but the questions about his future were relentless) and in his own system.
"Osorio has been criticized since he arrived, but the reality is that the numbers are there," defender Nestor Araujo said. "I think the team knows how to recover and has a lot of variety. We understand what he wants and how he wants to set up for games according to the opponent, what they put on the field, and according to the characteristics of our team."
What we saw Wednesday was a fiery Osorio who took exception to the New Zealand bench after Carlos Salcedo went down with an injury and who had to be calmed multiple times during the physical encounter. The coach is wonkish, and generally he's the nerd bullies are picking on rather than the man offering a full-throated challenge. But that's exactly what he did when he felt his players needed support. There are fair criticisms to be made of the coach after Wednesday's showing. It's clear, however, that he has his players' backs on a professional and personal level.