Chelsea
Conte: I don't regret playing Hazard as false 9 against Man City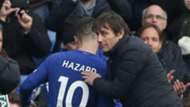 Antonio Conte has no regrets over his use of Eden Hazard, despite the forward's interview in which he seemed to criticise his role as a false 9. 
Hazard said "we didn't play to our strengths" after he failed to get a shot away as Chelsea were dominated in a 1-0 loss at the Etihad Stadium on Sunday.
Chelsea have now lost four of their past five Premier League games and, although Conte is likely to use Alvaro Morata and Olivier Giroud against Crystal Palace, he defended his decision to put Hazard up front. 
"If I think it's right for the team to play this way, it's OK," Conte said at Cobham Training Centre. "Otherwise I can take another decision and play with a striker. Maybe I can take different decisions. There are three players for two places. One has to go on the bench. Then I have to decide who has to go on the bench.
"For sure, [Giroud] is ready. He has specific characteristics, Olivier. He's a strong player and has a lot of physicality. I think that, in some games, it's right to start with him. In other games, it's right to start with Morata. 
"In others, it's right to continue with Hazard as a No.9. Olivier, he played against West Brom from the start, and played against Hull, and then came on in every game, I think. But he's ready to play. But I repeat, I don't like to speak to the press what happens with one player, with two players, with the team.
Conte emphasised it is his job to make those decisions and deal with any issues that may arise with the players as a result in private, rather than trading barbs in the press.
"I like to talk with the players face to face, or in meetings with all the players," he added.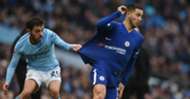 Conte also spoke on the criticism of the tactics themselves, highlighting that they were similar to the strategy used against Barcelona in the first leg of their Champions League last-16 tie.
While the Blues boss did not deny improvement is needed against that type of opposition, he emphasised while his side lost the game against City, the result may not have reflected the effectiveness of his defence against the league leaders' potent attack. 
"The tactics were the same against Barcelona," Conte said. "Defensively, we were very good in both games. If you look at the stats, we conceded only two shots to Manchester City: one they scored, and another after a free-kick and [Cesar Azpilicueta] saved it on the line. I don't see a lot of shots on goal from Manchester City, and this is very strange.
"Usually when you play against Manchester City they shoot about 20 or 25 times every game. For sure, compare that with the Barcelona game, I think we were not so good in ball possession. We missed a lot of last passes. And, for sure, we have to improve.
"We have to improve in personality, especially when there is a lot of pressure from our opponent. But the tactics were the same against Barcelona and, against Barcelona, I didn't hear anyone complaining. But, I repeat, we have to improve. We have to improve, especially with the ball."
Conte may opt to use Hazard as a false 9 again at the Camp Nou, after he performed in the role more successfully in the first leg against Barcelona. 
Going back to Hazard would make him a bit different than Marcelo Lippi at Juventus, who Conte recalls took a different tact when, as a player, the Chelsea boss criticised Lippi's use of him on the pitch. 
"We played a game, a massive game against Parma when they were first and we were second," Conte said. "We won 3-1. After the game, there was an international break.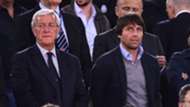 "During the international break [I gave] an interview. The journalists asked me if I was happy with the team and with this important win. My stupid answer was, 'We are winning, but I'm not happy because I'm not enjoying the role the coach decided to give me.'
"When I came back to Turin, it was a meeting with Lippi and all the players and he killed me. He killed me in a bad way, not in a soft way, in front of the players. 
"After training, the club called me. They killed me another time and gave me a big, big fine. And then, in the next game, I didn't play. I was on the bench against Piacenza. He told me it was a lack of respect for my team-mates, first of all, and then for him, the club and the fans.
"He killed me. But I took this experience to heart and, after that, I improved a lot. Not to be selfish. I started to think for the team. I became a captain of the team after that."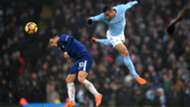 Conte cautioned he and Hazard are not in the same spot, but indicated it allowed him to understand the Belgian international's mindset over a frustrating outing. 
"You can check. That's in the past. This is a funny story," he said. "No, I think there are different situations [between me at Juventus and Hazard]. I don't think this is the same situation. When we are players, the risk of making a lot of mistakes, it's enormous. It's big.
"The players, it's normal... When I was a player, until one point of my career, I was selfish. Because you think about yourself if you play. If you don't play, you're unhappy. You don't think about the team. When you arrive at that point in your career, though, you start to have your mind more open, to be less selfish, and to start to think for the benefit and best of the team, and not only for yourself.
"I'm talking about my experience — not the others. This is the best way. I'm saying that I was selfish until one point in my career, and then I became a team player with my mind."