Antonio Conte
Conte insists 'I don't hate anyone' amid row with Mourinho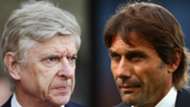 Chelsea manager Antonio Conte has insisted he doesn't hate anyone after a week of feuding with fellow Premier League bosses. 
Conte has been at war with Jose Mourinho in his recent press conferences, while he has also hit out at Arsene Wenger around his comments about Eden Hazard's penalty award last week at the Emirates Stadium. 
Wenger made the suggestion that Hazard dived to win a penalty in the 2-2 thriller , which led to a response from Conte, who said that Arsenal were actually "lucky" with refereeing decisions on the night . 
The Blues boss insists he has no rivalry with Wenger but he didn't soften his stance on Mourinho in earlier questioning during the press conference . Conte did concede that his issues with Mourinho stop short of hatred between the two. 
"This is not true. I don't hate anyone," Conte said when asked about Mourinho before talking about his recent response to Wenger's comments on Hazard. "I made a comment to Arsene because he mentioned my player, otherwise I have respect from what every coach thinks. 
"In this case I made a comment became he mentioned Hazard. But every coach has their own opinion and we must respect it, if you don't offend anyone."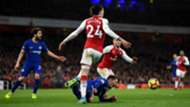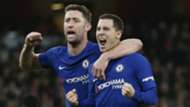 Conte has recently described Alexis Sanchez as the best in the world in his position and he believes that Arsenal will not sell their attacker – despite strong speculation over an imminent move to Manchester City. 
As first revealed by Goal on Sunday, Manchester City are thought to be close to an agreement with Sanchez but Conte is preparing Chelsea to face the 29-year-old once again. 
"My expectation is to see the best team from Arsenal," Conte continued. "My expectation, I have this expectation to play against the best team. I don't know [if he's going to Manchester City]. But for sure we are talking about an important player, about a good player.
"If this type of situation happens, because in my opinion I think Sanchez will finish the season at Arsenal. This is my opinion. I don't know. 
"I don't know what will happen during the transfer market this month because every team can rely on the transfer market to improve, to become more strong, every team can use the transfer market to improve.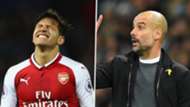 Conte was then asked whether Arsenal losing Sanchez would be a similar situation to Chelsea losing Eden Hazard, who has been linked with a move to Real Madrid for the past month. The 47-year-old then insisted that his star man is happy at Stamford Bridge. 
"I can speak about my player and as you know very well Eden is an important player for us," Conte responded. "Eden is very happy to stay here, to work for this club, to work for us. And we want to try to give satisfaction to our fans. I'm sure about this. For sure, Eden is an important player for us."