Manchester United
Andreas Pereira showing Man Utd what they're missing as Valencia fight for title
There's a Manchester United midfielder currently enjoying increased game time in a team boasting nine straight victories. His side sit second in the league, four points off top spot, and have rattled up wins of 6-3, 5-0 and 4-0 as part of the run which is the envy of almost the entire continent.
But Andreas Pereira is not contributing to United's cause as they look to break out of a funk which has seen them lose ground on runaway leaders Manchester City over the last six weeks, rather he is helping an unbeaten Valencia create a buzz in La Liga. The east-coast club are bearing down on Barcelona having left a stumbling Real Madrid scrambling behind, and the Brazilian youngster's decision to head back to Spain on loan last summer is looking increasingly justified as Barca head for the Mestalla at the weekend for a much-anticipated table-topping encounter.
Pereira's form has attracted rave reviews, with his six starts and five substitute appearances giving him plenty of opportunity to prove his worth in a succeeding team. His return of one goal and three assists is only the start of the positives to be taken from his performances. Regular displays of skill and maturity have allowed the 21-year-old to have a lasting impact on coach Marcelino, who in turn has given him plenty of opportunities to impress.
After years of rampant underachievement, Valencia have so far spent 2017-18 proving doubters wrong and Pereira is chief among those players who have been a pleasant surprise as Marcelino's culture-building regime off the pitch and belief in attacking football on it have paid dividends.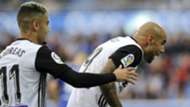 It is all a far cry from his life at Old Trafford, where he racked up a grand total of two starts – both in the League Cup under Louis van Gaal in 2015-16 – before heading for Granada on loan last season. After 37 appearances for the Andalusians, Pereira was not ready to return to being a fringe player and despite having featured heavily as a central midfielder under Jose Mourinho during United's summer tour he was not sufficiently reassured that regular game-time would be forthcoming.
As a result he jumped at the chance to join Valencia for a season, but Mourinho was far from happy with his midfielder's choice. "It was a personal decision that I don't agree with, a decision I don't think honestly is the best decision for him, a decision that disappoints me," said the United boss.
"He has the potential to be fighting for a position, opportunities and to be a Manchester United player. His decision can be considered a young player who wants to play every weekend but also a young player that is not ready to fight for something difficult and it's difficult to play in Manchester United's midfield.
"But it was his decision and I opened the door. He has a long-term contract and we have the option to bring him back on January 1, so it is not a drama but is a decision which disappoints me a little bit."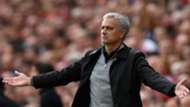 When asked soon after about Mourinho's comments, Pereira insisted they did not overly sting him. "It did not hurt," the youngster told Marca. "I talked to him before coming here. On the one hand I'm happy because he loves me and if he didn't think I was a good player he would not have wanted me to stay."
He has since backed up those words with actions and earned plenty of first-team minutes as a result. So well is his spell in Valencia going that he will not be petitioning to return to Manchester in January even if Mourinho comes knocking.
"For me, staying here would be a very good option and would help my game," he told reporters in October. "I am happy at this club and want to continue here, I always wanted to stay here until June. I know United have an option to take me back in January but right now my mind is focused here."
Pereira is revelling in the increased responsibility, and while his spell with Granada afforded him plenty of senior experience, his time in Valencia is allowing him to have an effect on a team which right now is flying. Recent injuries for United's Paul Pogba, Michael Carrick and Marouane Fellaini helped to open the door slightly for Scott McTominay – the man promoted to the first-team squad in Pereira's stead – but in truth there has been nothing like the same amount of game-time going at the Theatre of Dreams as the Brazilian has played at the Mestalla. Indeed, he has already racked up more first-team minutes for Valencia than he has in three years at United since making his senior debut.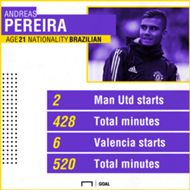 Moreover he is adding the kind of ability on the ball and maturity in possession which United have appeared to be short of during their patchy recent form ahead of Brighton's visit to Old Trafford on Saturday. It would be a stretch to say he has been the difference between a 100 per-cent run and the sticky patch which has seen United take seven points from a possible 15 in October and November, but Pereira would surely have played some part.
"I had Herrera and Matic and nobody else on the bench to make the difference," said Mourinho in explaining his inability to change things dramatically in the second half of the 0-0 draw at Liverpool last month. But it is unlikely that Pereira will be regretting his summer decision on the strength of one or two openings such as the one which perhaps would have presented itself at Anfield.
So well have things gone for him over recent weeks that he has even admitted to Superdeporte that a permanent stay with Los Che would suit him just fine. "Of course, that would be a very good option for me, it would be positive. I'm happy at Valencia," Pereira explained.
"Valencia is a big club and, seeing our current form, everyone wants to remain here. Everything is going so well, everyone in the squad is happy. We want to maintain this."
Mourinho might have wanted him to stay at United and show some fight, but Pereira has taken a very different route into a title scrap and on current form nobody could claim that it was the wrong decision for him to make. Indeed, as he prepares to take part in a top-two clash with Barcelona this weekend, one would forgive him if Brighton is the last thing on his mind.