Manchester United
Ander Herrera hints at new Man Utd deal as he targets double century of appearances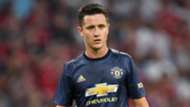 Ander Herrera has hinted that he will be signing a new contract at Manchester United , with the Spaniard targeting 200 appearances for the club.
The 29-year-old moved to Old Trafford in 2014, with Louis van Gaal snapping him up for £29 million ($37m) from Athletic Club.
Since then, Herrera has gone on to make 161 appearances over four seasons.
His efforts saw him named Player of the Year in 2016-17 – breaking David de Gea's monopoly of that prize – and he remains an important squad player under Jose Mourinho.
Herrera told Inside United of his achievements to date: "First of all, it makes me feel very proud, because when you play for Manchester United, you have to deserve, every season, to keep playing for the club.
"I think the manager is very happy with me, the fans are very happy with me, so that makes me really proud."
Herrera has entered the final 12 months of his current deal with the Red Devils, but he is ready to commit to an extension as he eyes more outings and additions to a CV which already includes FA Cup, League Cup and Europa League triumphs.
He added: "All the memories I have are amazing.
"I have been able to win trophies for the club, I have been able to play more than 160 games right now, so what I have in my mind is to go for the 200 games and keep adding games for the club and for myself.
"The way the club treats me is perfect, the love the fans show for me couldn't be better or bigger, my family is happy in Manchester, so I just try to give everything and put all my strength and effort to keep deserving to play for this club."
Herrera played no part in United's 2018-19 season opener against Leicester after picking up a knock in a friendly clash with Bayern Munich.
He will, however, be hoping to figure prominently over the course of the campaign, as he chases down a new contract and more major honours.