A-League
'An easy decision'- Warren Joyce explains Bruno Fornaroli omission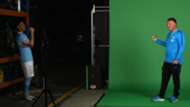 He might be Melbourne City's star player, but Warren Joyce has declared the decision to again leave Bruno Fornaroli out of his side was an easy one.
The striker will now miss his third straight game after initially being dropped to the bench against Brisbane Roar and refusing to travel with the squad.
Since then he's been frozen out completely by Joyce, who cited a lack of commitment for Fornaroli's continued absence.
"I am disappointed," Joyce said on Thursday.
"I've talked a lot about commitment. You see how committed the owners are to being successful and how committed they are to producing football that can win over a sustained period. They've got a commitment to being successful in Australia.
"All the players know what commitment is required here, Bruno is no different.
"You can take a horse to water but you can't make it drink."
A report from The World Game last month suggested Fornaroli's desire to move to Sydney FC over the off-season was a key reason behind tensions between player and coach.
The Covert Agent has since revealed Joyce is now open to allowing Fornaroli to leave in January - along with a handful of others. 
Fornaroli's current absence leaves City without a recognised striker and though a big loss, Joyce stressed leaving him out again was an easy decision. 
"Nobody can stop players showing desire and intent," he said.
"I've got to be able to look in every player's face and they've got to believe the things I say will actually happen.
"It's an easy decision for me to make - you can either choose to make the wrong decision because its easier on me or a right decision and it's hard on me."