Bundesliga
Americans Abroad: Brooks, Lichaj and Diskerud find net in productive weekend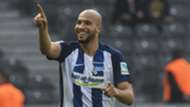 John Brooks had to wait over a year between his previous two Bundesliga goals, so after the defender found the back of the net March 18 against Koln, it looked like a safe bet to assume he wouldn't score again in the league for a while.
But Brooks bucked those trends Sunday, as he opened the scoring for Hertha Berlin against Augsburg. In the 12th minute, a partially cleared corner fell to Valentin Stocker. The Swiss international delivered a drive into the area and Brooks redirected it home for the 1-0 lead.
John Brooks made sure the #Bundesliga's #USMNT stars got in on the #goalmania action! @j_brooks25 @HerthaBSC_EN https://t.co/AEphxzkdFy

— FOX Soccer (@FOXSoccer) April 9, 2017
Berlin went on to win the contest 2-0, as it continues to chase European football next season.
Goals aside, it is shaping up to be the defender's best season with his club. Brooks has already equaled his number of starts from last season, 20, and if he can start five of Hertha's six remaining games, he will have a career high in the category.
In addition, WhoScored.com's player ratings put Brooks among the top 50 players in the Bundesliga this season at No. 47. That's the highest of any American in the league.
---
WOOD GETS ANOTHER KEY ASSIST
---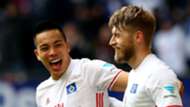 Before Hamburg's match against Koln on April 1, Bobby Wood had not recorded a Bundesliga assist. Three games later, Wood now has two.
While his assist against Koln was more of the accidental variety, there was no doubting his intention against Hoffenheim. Wood timed his run well, taking the through ball into a 1v1 with the keeper and then unselfishly feeding Aaron Hunt, who completed his brace with the finish into the empty net.
Wood and Hamburg have now grabbed 14 of 18 points available from their last six games. That run has pulled them out of the relegation zone and up to 13th on 33 points with six games left. They're not safe just yet - Hamburg is only four points ahead of 15th and 16th place (safety and relegation playoff) and five points ahead of 17th (relegation). And, thanks in large part to its 8-0 loss to Bayern Munich in February, Hamburg's goal differential is -23, the second worst in the league.
In other words, Wood is going to have to keep up his contributions if Hamburg wants to secure its Bundesliga spot for 2017-18.
---
LICHAJ FINDS THE NET
---
As a defender, Eric Lichaj isn't going to find the back of the net that often. However, he got one of the easiest goals he'll ever score in a 2-0 win for Nottingham Forest over David Wagner and Huddersfield Town.
Ben Brereton managed to thread a perfect pass from the byline, nutmegging a sliding defender and leaving the keeper helpless. Lichaj was there to tap the ball into the yawning net for his second goal of the Championship season.
Normally a right back, Lichaj was placed a little higher up for the contest Saturday, deployed as a right wingback, and thought he should have done better, telling the Nottingham Forest official website: "It was good to get on the scoresheet and to contribute. I could have had a second and should have done better with it."
The 28-year-old defender may have missed out on the recent international period for the United States thanks to an inopportune injury. Given the lack of depth at the outside back position, Lichaj is likely not far away from another chance, so long as he can keep up reasonable form for the Championship side.
---
MORALES LOSES STARTING SPOT
---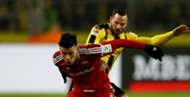 The central midfield is a crowded place for the U.S. national team these days, especially for players that are more defensive minded. So it isn't good for any player's national team prospects to see his club minutes start to dwindle.
That may be what is happening to Alfredo Morales. After getting a consistent run in the Ingolstadt starting XI throughout the winter, Morales found himself on the bench for his side's 3-2 victory over Augsburg on April 5, though he did make a late appearance to help Ingolstadt hold onto the three points.
This weekend, Morales began on the bench against Darmstadt and Ingolstadt fell behind 2-1 to the Bundesliga bottom feeders. Morales entered in the 61st minute and Ingolstadt rallied for goals in the 68th and 72nd minute for a much-needed 3-2 win.
That Morales was on for the comeback will help his cause, but the midfielder hasn't stood out since a good spell in December and January. A Gold Cup call-up looked quite possible a few months ago, but he'll likely need to finish the season strong to make that a reality.
Morales isn't the only American whose place is not assured in Germany. Terrence Boyd didn't make the 18 for Darmstadt in the loss. Aron Johannsson continues to make the bench for Werder Bremen, but has played just once since March 1. And in the 2. Bundesliga, Julian Green's playing time with Stuttgart is dropping, as he made the 18 but did not play in his side's 2-0 win over Karlsruher SC. 
---
DISKERUD OPENS ACCOUNT
---
Last week Mix Diskerud made his first start in the Swedish Allsvenskan. This week, he bagged his first goal.
Diskerud arrived late into the area on a IFK Gothenburg counter and fired a low shot into the corner.
It was an active performance from Diskerud, as he made eight tackles from one of the two holding midfield positions. He also completed 76 percent of his passes in the contest, though he had blasted a good chance well over the bar earlier in the match.
How much of a look Diskerud will get for the national team while playing in the Allsvenskan is unknown, but at the very least, a strong loan season could help the midfielder find interest from a more high-profile club elsewhere.