Bundesliga
Americans Abroad: Pulisic shines through as Dortmund struggles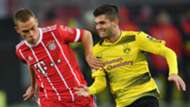 Turning heads in defeat — it seems like deja vu all over again for Christian Pulisic.
After the failed U.S. 2018 World Cup qualification campaign that saw the teenager frequently shine, Pulisic could at least take heart in his situation at Borussia Dortmund. He was in a three-way battle for playing time for a team that sat on top of the Bundesliga after a great start to the campaign.
Things have gone downhill since for Dortmund. The club has won just one game since September ended — a DFB-Pokal victory over third-division Magdeburg. That run includes a pair of draws with Cypriot side APOEL in the Champions League, which has all but seen the Bundesliga club eliminated from the competition.
The situation did not improve this weekend against Bayern Munich, as Dortmund was consigned to a 3-1 defeat. However, Pulisic emerged from the game as one of the bigger storylines.
He was aggressive in the contest, attempting 12 one-on-ones and successfully completing eight. That's a high for the league season, according to Bundesliga.com. But perhaps the highlight of the match was when he took on two Bayern defenders and nutmegged Arjen Robben, creating the chance that led to Marc Bartra's consolation goal in the 88th minute.
But Pulisic told Bundesliga.com after the game that while he may feel good, it doesn't mean a whole lot if his team is struggling.
"It doesn't mean much," Pulisic said when asked about the one-on-ones statistic. "I felt pretty good out there. I feel confident at the moment. Unfortunately, things at the moment as a team aren't going [well], which is the most important thing."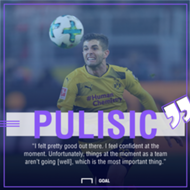 The performance drew one of the few plaudits Dortmund manager Peter Bosz handed out post-game, saying: "There was one moment during the game where I thought to myself, while sitting on the bench, that Christian Pulisic was our man of the match — together with the supporters. They were still supporting us when we were 3-0 down."
And Bayern great Lothar Matthaus was impressed enough he thought Pulisic should follow in the footsteps of some other Dortmund players, like Robert Lewandowski and Mats Hummels, and join the Bavarian giants one day.
"If Bayern Munich someday looks for a replacement for Robben and [Franck] Ribery, then they have to put out their feelers for Pulisic," Matthaus told Sky.
"He is 19 years old and has high quality." Matthaus continued. "With his confidence and his speed, he is called to higher [things]."
Pulisic clearly faced competition this season from the likes of Andriy Yarmolenko and Maximilian Philipp. But the form of Yarmolenko has fallen off a bit after a hot start as has Philipp's. The good news for Pulisic is that it entrenches him in the starting XI. The bad news is it leaves him isolated as one of the few spark plugs Dortmund has.
And so, like with the United States, Pulisic finds himself impressing coaches, fans and observers but is left with team results that are difficult to stomach.
---
WOOD LOSES PLACE AT HAMBURG
---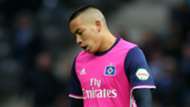 Bobby Wood's road from 2.Bundesliga to quality Bundesliga striker drawing interest from bigger clubs has been a pretty remarkable one. But the sweet story has now turned sour.
While Wood did manage some heroics for the U.S. squad that ultimately fell short of getting to Russia, his form at Hamburg has been disappointing. He has just one goal in nine Bundesliga starts this season — a poor return for a player who received a lucrative extension this past summer.
With Hamburg struggling, manager Markus Gisdol ultimately was pressed into making a change.
"In the end, the performance principle also applies to him," Gisdol told reporters. "It all falls together. He's descended into a negative spiral from which he has to free himself. He has the potential to be a good forward, but he is not in any sort of form right now. He might give it his all, but things are not going well for him somehow."
Wood was dropped this weekend for 17-year-old Jann-Fiete Arp, who bagged a goal in a 3-1 win for Hamburg over Stuttgart. It is worth adding that Hamburg was a man up for 77 minutes, but that's the type of performance Arp needs to make Wood's displacement permanent.
Given his wages, and his strong performances last season, Wood seems likely to get another chance. But for now, the days of Wood being one of the few Americans with a lock-down starting spot for a team in a top European league are over.
---
JOHANNSSON LOGS FIRST MINUTES SINCE AUGUST
---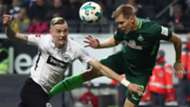 To say Aron Johannsson's time at Werder Bremen has not gone as he would have liked is an understatement. After a move from Eredivisie side AZ, the striker has made just seven Bundesliga starts in parts of three seasons.
And things have gotten worse this season. Derailed by injury before, Johannsson simply has not been the manager's choice for most of the campaign, usually not even making the bench for Bremen. He had played a grand total of three minutes in the Bundesliga prior to this past week, and that cameo came back on Aug. 28.
A move away from the club never materialized, and he was even dropped down to the German third tier to play 90 minutes with Werder Bremen II in late September.
However, after a poor start to the season which sees the club in 17th, Bremen dismissed manager Alexander Nouri on Oct. 30. Florian Kohfeldt led the side on Friday against Eintracht Frankfurt.
Johannsson made his first bench since August in the contest and saw the field for a brief cameo in stoppage time of the 2-1 loss. It's not much, but it's better than what he had been getting under Nouri.
A coaching change can provide new life to players as a fresh set of eyes looks over the roster. Johannsson still has a long way to go to even consistently crack the rotation at Bremen but the opportunity may be there, if he can seize it.
---
STANKO MAKES BUNDESLIGA DEBUT
---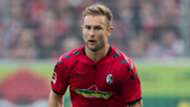 Caleb Stanko being in Freiburg's lineup has been something of a rarity.
Having joined the German side rather than go to college, Stanko has been in the club's system for seven years. However, Stanko was not usually found in Freiburg's team, even when the club was in the 2.Bundesliga. He made just five league appearances in 2015-16 for the club, with one start.
Last season, he went out on loan to Swiss Super League side Vaduz, making 26 appearances and 20 starts.
This year, despite impressing in the preseason, Stanko had not been heard from much at all. He made the bench for a Europa League qualifier but did not play. He played one game for Freiburg II in September. But that was it for the 24-year-old midfielder.
"He plays a part in every single training session and takes responsibility for teammates by translating for the English players," manager Christian Streich said in quotes published by the Detroit News last month. "He has bad luck in that other players are ahead by a nose in his position. It is important for him to play.
"There we have to find a solution."
The solution appears to be versatility as Stanko, a defensive midfielder by trade, lined up as a member of a back three to start against Schalke for his Bundesliga debut on Saturday. He replaced Caglar Soyuncu, who was suspended, as Freiburg fell 1-0.
"It was great how the two, Bartek [Kapustka] and Caleb, who had barely played before, came in and played," said Streich in quotes published by Kicker.
"Caleb dared to play. If you never play — and he's rarely in the squad — then you may think you have to take this chance and make something special, but he did not. He had a calm first half.
"There were one, two situations where I thought it could have been better, for example, he did not quite handle a pass from Alexander Schwolow, but has done well overall."
Since Soyuncu was suspended, it doesn't seem that likely Stanko will keep his place when the club returns from the international break. But perhaps he has done enough to warrant a spot in the 18, and a chance in the rotation on a more consistent basis.
---
ASSIST FOR CARTER-VICKERS
---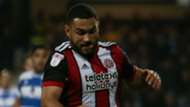 Cameron Carter-Vickers certainly was involved in the action this past weekend for Sheffield United.
The 19-year-old, starting on the right side of a back three, had the Hull City opener happen on his watch. Kamil Grosicki hit an absolute rocket from outside the area that found the back of the net, right in the face of the teenage defender.
It may be hard to find fault with Carter-Vickers there as he stepped up, albeit perhaps a half-second late, and the shot was masterfully struck with perfect power and precision.
But if he did take any blame for the opener, Carter-Vickers would go on to make up for it. Bombing forward on the overlap in the second half, he delivered a low cross that teammate Leon Clarke put home to equalize the proceedings at one. Sheffield United would go on to a 4-1 victory with Clarke having himself a day, scoring all four of the goals for the Blades.
The most important thing for Carter-Vickers is playing and he's done that now at Sheffield United, having started nine of the club's last 10 games in the Championship.
He's played well enough that there was even a rumor, reported by The Sun, that Sheffield United fears Carter-Vickers could be recalled by Tottenham.
Take those rumors with a grain of salt — most turn out to be nothing and it would be surprising to see Spurs recall him given how strong their defensive unit is. But it certainly suggests the youngster is turning heads in England and may receive opportunities in the Premier League, with Tottenham or elsewhere, next season if he can keep it going.