Premier League
Allardyce consoles himself with Nando's for one amid Crystal Palace struggles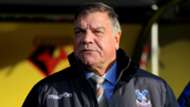 ---
EXTRA TIME
---
It's been a rough season for Sam Allardyce.
After losing the England job in disgrace in September, Big Sam returned to the Premier League tasked with steering Crystal Palace clear of relegation.
Conte & Chelsea could struggle in CL
It's become his specialty over the years, with Allardyce successfully ensuring Bolton Wanderers, Blackburn Rovers, West Ham and Sunderland all avoided the drop under his management.
But this time it is not going to plan, and Palace reached a new low last weekend when they were hammered by the Black Cats - one of their main relegation rivals - after falling behind 4-0 in the first half.
Ahead of a potentially crucial run of matches against Stoke City, Middlesbrough and West Brom, Allardyce decided to seek some alone time, perhaps in an attempt to clear his head.
And what better place to do it, of course, than the popular peri-peri chicken chain Nando's?
The 62-year-old was spotted surveying the menu by a fellow customer at one of the restaurant's locations in south-east London on Thursday ahead of Palace's trip to Stoke this weekend.
Only CR7 compares to incredible Ibra
Thankfully, he was not surrounded by undercover journalists this time but instead taking the opportunity to plan for the game at the Britannia Stadium.
There's nothing like a cheeky lunchtime game of wing roulette, after all, to cheer a man up.