Manchester United
Aimless, characterless, plain pathetic - Man Utd show why they are sixth best in tepid draw with Hull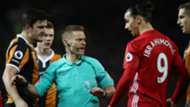 ---
COMMENT
---
Having spent a period of some months waiting for their chance to finally close in on the Premier League's top four, Manchester United were back to sampling Old Trafford frustration on Wednesday.
'Utd & Arsenal are Chelsea's main rivals'
But they have nobody but themselves to blame for an aimless, characterless performance against Hull City which ensured they made nothing of the batch of results which had gone their way elsewhere.
The 0-0 draw at the Theatre of Dreams was a reminder of why they fell to sixth spot in the first place. Unable to find a cohesive style of play to open up committed yet rudimentary defending, Jose Mourinho will have to answer questions with more than just glib statements about factors not going his way.
Too often, United's play is without any real purpose or direction. There appears to be no structural plan to their attacks, with much of their output depending on the ability of Paul Pogba or Zlatan Ibrahimovic to deliver an inspired touch. Sometimes Manchester United come across much like an amateur side with one or two diamonds, the type which will always look to their stars to dictate the way in which they should take the game to the opposition.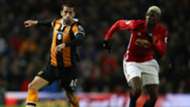 United's full-backs seem unsure when exactly they should and shouldn't be overlapping, and Ander Herrera seems immune to venturing beyond the midfield third since his reassignment earlier in the season. Pogba, meanwhile, is not the type of number 10 to bomb beyond the target man and would be much more at home picking up the ball from a midfield position with space to run into.
This lack of a real identity helps to make long stretches of United matches highly fractious and disjointed affairs, particularly at Old Trafford where visiting teams will regularly place an emphasis on their solidity and invite United onto them.
'Auba's style fits Madrid perfectly'
It is hard to remember any home league game this season in which they have really taken the initiative from the off, and it so often gives away sides the opportunity to play spoiler. United have not dropped a multitude of points at home under Mourinho by utter coincidence. Just as Stoke City, Burnley and West Ham United came and did a job on United, so too did Marco Silva's outfit here, and the truth is that they were not tested nearly as much as they might have been.
Almost six months on from paying a world-record fee for Pogba, they are still not playing to his strengths. There remains a belief that Zlatan will always, but always, find them a way to get out of a tight spot. They need more than that.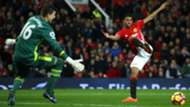 With well over 60 per cent possession once more, Mourinho could be at liberty to claim his side bossed yet another game and got unlucky again. But it didn't feel like United were truly breaking down the door until the last 15 or 20 minutes, by which time Silva had brought on Andrea Ranocchia to reinforce the back line in order that his side be well prepared for the onslaught.
The Tigers deserve some praise for the way they dealt with United. Having been exposed to the Red Devils three times in recent weeks, Silva has been quick to identify and deal with United's few real threats. With Harry Maguire leading the way in dealing admirably with Ibrahimovic, they rarely looked stretched elsewhere.
Some United fans will ask why Anthony Martial didn't get a chance to add a different dimension to the play, while the somewhat directionless formation in the second half after Mourinho had made his three changes seemed to exacerbate their problems rather than solve them.
More and more United fixtures are seemingly balancing on a referee's decision here or a bit of inspiration there. These should not be the deciding factors when Burnley or Stoke or Hull come to town. And it is just such results which will undermine any hope of finishing in the top four unless Mourinho can start to inject a greater purpose in their play.
This was another pathetic home result, but then it was another pathetic home performance.