India
AIFF Senior Vice President Subrata Dutta appointed Vice President of SWAFF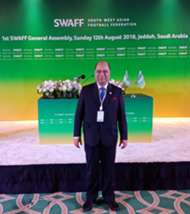 The All India Football Federation (AIFF) Senior Vice President Subrata Dutta has been appointed as the Vice President of the South West Asian Football Federation (SWAFF).
A successful first #SWAFF General Assembly in Jeddah saw the election of the board members as we look forward to developing the beautiful game in the region pic.twitter.com/cDZuOQeHGR

— South West Asian Football Federation (@officialSWAFF) August 12, 2018
Dutta, who is also the chairman of the Indian Football Association (IFA), was tasked with the new responsibility at the first ever SWAFF general assembly convened in Jeddah, Saudi Arabia on Sunday.
The former IFA President is an experienced administrator in Indian football and has worked for the betterment of the sport in the country for nearly two decades. 
The newly-formed football federation, led by Dr Adel Ezzat, President and Chairman of Saudi Arabian Football Federation, comprises of ten nations including India. A meeting for the formation of SWAFF was convened in May this year and it was attended by Subrata Dutta and AIFF general secretary Kushal Das.
Adel Ezzat will be the president of SWAFF. Mohamed Shaweed of Maldives FA was appointed as the Senior Vice President whereas Abdullah Al Junaibi of the UAE FA is the other elected vice president.