Nazri Nasir
AIA Singapore partners Lions legend Nazri Nasir to promote active lifestyle and healthy living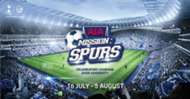 AIA Singapore has announced an exclusive partnership with former Singapore captain Nazri Nasir. Significantly the aim of this partnership is to inspire more Singaporeans to live healthier, longer and better lives. With the support of Nazri, one of Singapore's most prolific footballers, AIA Singapore launched a social media contest to celebrate Singaporeans who lead healthy and active lifestyles.
As the global principal partner of Tottenham Hotspur Football Club (Spurs), AIA has been engaging communities through football and healthy living. With active participation in sports, AIA also promotes values of teamwork, discipline and sportsmanship to positively impact people's lives.
Notably, Nazri has been an ardent Spurs supporter since his childhood and his dream is to visit the home of Tottenham Hotspur in North London. Through Nazri's personal story and his motivation to lead a healthy lifestyle for his children, AIA Singapore hopes to inspire Singaporeans to overcome adversity and take charge of their health and future.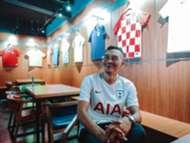 The AIA Mission: Spurs - Celebrating Courage Over Adversity contest sets out to search for passionate Spurs fans in Singapore who overcame life's challenges and have since adopted a healthy and active lifestyle.
Significantly the most inspirational Spurs fan will win an exclusive journey of a lifetime for two to visit the world-class new stadium in London, England alongside Nazri.
Other initiatives by AIA Singapore includes AIA Vitality, a first-in-market behavioural science backed wellness programme; the recent partnership with Medix to provide AIA Max Essential A/ A Saver customers with Personal Medical Case Management, and sponsoring fitness events such as The Music Run and Fitness Fest to make active living fun for all ages.
Interested individuals may find out more about the contest at www.facebook.com/Singapore.AIA from 16 July 2018, to stand a chance to win an exclusive trip to meet Spurs players and watch a match live at Tottenham Hotspur's new stadium in London. Deadline for submissions is 5 August 2018.