Manchester City
Aguero's responding to Guardiola's demands - now to prove it against Chelsea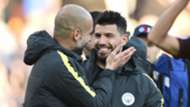 ---
COMMENT
---
Many Manchester City fans will have accepted the fact that Pep Guardiola arrived in Manchester this summer less than fully convinced by Sergio Aguero.
It is an uncomfortable truth for those who idolise Aguero – especially given the way Joe Hart was shipped out – but what is important right now is how the situation is being handled.
Most importantly of all is how Aguero, for so long revered by everybody around the club, has reacted to the constant reminders, in both public and private, that he must do better.
It is no surprise to see Aguero at the top of the Premier League scoring charts – incidentally alongside Chelsea's Diego Costa – but for Guardiola it was never just about the goals.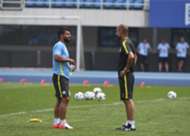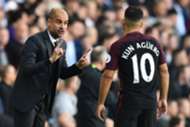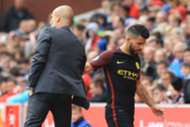 "It is not about how many he scores because we are happy with the scoring," the City boss said in October. "When he is good everything can happen in our team."
It is the definition of "good" which is crucial. Good means more than just goals. Good means "believing how good he is and how we need him", as Guardiola put it; good means closing down defenders; good means offering better options when City's midfielders have the ball. Good means complete performances.
As Guardiola first weighed up how or even if he could get the best out of Aguero, he looked to the transfer market. After being told Pierre-Emerick Aubameyang would cost too much, he identified Gabriel Jesus as somebody who could put pressure on the Argentine.
'Stones must follow Ferdinand's blueprint'
City's South American scouts had already identified Jesus' exceptional movement off the ball, the type the club's coaches want to see from Aguero in Manchester.
Guardiola made a personal phone call to the Brazilian to ensure the Blues beat off competition from Barcelona and Manchester United, not just because he is a fine talent, but because he has the qualities that Aguero is deemed to lack.
Jesus will be in the stands on Saturday as City take on Chelsea, but in the New Year he will be in the squad, working hard to make a name for himself.
It is fair to say Aguero is under pressure to perform this season, but he has responded brilliantly.
"Aguero's work-rate is night and day compared to even last season," City legend Shaun Goater told Goal recently.
"For all his great talent, he was not a complete player under [Manuel] Pellegrini, but Pep has turned him into one now.
Why you can't watch El Clasico in the UK
"Pep told him in the summer what was expected of him and he has responded magnificently. He's now world class and I'm not sure you could say that before."
Aguero's performance in City's victory against Barcelona was perhaps his best of the season. He may not have scored, but he did run the defenders ragged, he did ensure his team-mates had something to aim for, and he did earn Guardiola's praise: "He was awesome".
It is that kind of performance that Aguero will need to deliver on a consistent basis, and ideally against Chelsea.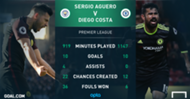 Not least because Diego Costa will line up for the opposition. Costa could certainly be considered the best striker in the Premier League, and not just for his goals.
The two strikers have both scored 10 times in the league but the stats show the Spaniard, albeit having played two extra games, has made four assists compared to Aguero's none, won more aerial duels (25% to 12%) and more free kicks (36 to 6). Costa has also made over 100 more passes and has won more tackles (7 to 3).
Given Guardiola has intimated on several occasions that he would like a striker capable of battling for long balls and either retaining possession or earning a foul, Costa's particular skill set stands out.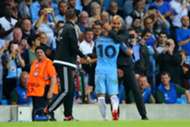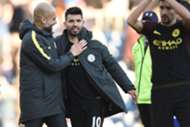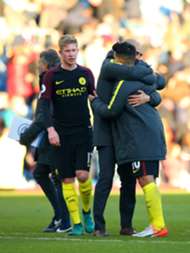 And while Aguero has clearly improved already and Guardiola has publicly shown his recognition, particularly on the pitch after matches, it is believed City are still monitoring the market for a big-name striker who could join the club at the end of the season.
That, though, is very much a case of covering all the bases. Guardiola insists he wants Aguero to stay and even that City cannot achieve their targets without him – this is not another Hart situation.
Toure can win the Premier League for City - Hart
In fact, the two men would probably get on famously. Both are keen fans of golf - Aguero says it's his favourite thing about the UK apart from football – and both name Michael Jordan as sporting heroes – the whole Aguero family idolise the NBA hall of famer, and the striker has a brother named Jordan in his honour.
But if goals aren't enough to win over the City boss, reminiscing about the Chicago Bulls certainly wouldn't make a difference.
Aguero knows what he must do and only his efforts between now and May will count for anything. Another complete performance against Chelsea certainly wouldn't hurt.