AFC Cup
AFC Cup 2017: Sunil Chhetri - Don't know much about 4.25 SC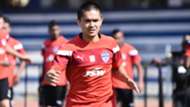 Bengaluru FC captain Sunil Chhetri exuded confidence despite the prospect of facing relatively unknown opponents in North Korea's 4.25 SC on the eve of their 2017 AFC Cup Inter-zonal semi-final first leg at home.
With the departure of familiar faces and the influx of new players in lieu of Bengaluru FC's incorporation into the Indian Super League (ISL), Chhetri felt that the squad would have liked for more time together to prepare better for the tie.

"We're adapting quite well. It does feel that it's the first year. In between the three years, 80 per cent of the team was here, all the players have a good mentality. Everyone is working very hard. The time isn't adequate. Tomorrow is a real test. We would have wanted to play more games before. None of us could have played 90 minutes. It's a big game. We want to continue our work in the AFC Cup", he commented.

Further adding, "It was difficult the first week. We cried and then we worked on the ground. It's the same for him (Eugeneson Lyngdoh). The three-four days after the (ISL) draft, people said whatever they had to say on the personal chat. We had won the I-League before Eugene (Lyngdoh) came. Eugene, Sandesh (Jhingan), Amrinder (Singh)…the list can go on. These players were amazing and I hope we can get them again. This year, the players we have can help us."

The 33-year-old conceded that their know-how on Wednesday's opponents stands limited. " We don't know much but we did see some videos. They have six to seven national players. They are a difficult team to play against. They are not an easy opponent. It will be difficult for us. It's our home and we always start as favourites. We will give our best."

On the other hand, 4.25 SC head coach Hwang Yong Song was delighted that his team would face last year's runners-up in the tie. "Our football team is one of the strongest in DPR Korea and we are happy to enjoy the tournament. We think Bengaluru FC is a very strong team and have good players in defense and midfield. We are happy to have a match with them", he stated.

"We have seen their (Bengaluru FC) videos. There are four Indian national team players and some foreign players. We think their players are good", he assessed.

"Our team has many young players. They have been training together for a long time.  Kim Yu Song [Nine goals already in the tournament] is one of the youngest players in our team. He is good in attack. In the Olympics Games, Under-23, he scored many goals. He is an important player for our team. Our team has no foreign players. I think our players are good enough."

He concluded by summarizing their journey in Asia's second-tier club competition so far, " This is the first time we are participating in the AFC Cup. We are facing Bengaluru FC tomorrow and if we win this game we proceed to the next stage. We would like to participate more often in the AFC Cup."