AFC Asian Cup
AFC Asian Cup 2019: Bahrain to play friendlies against Philippines and China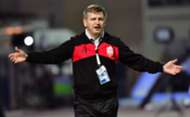 Miroslav Soukup's men are set to feature against the Philippines on September 6, followed by a game against China four days later on September 10 as they continue their preparations for the AFC Asian Cup 2019. 
They had recently returned from the Czech Republic where they had been camping under head coach Soukup, who has called up 24 players to prepare for the upcoming friendlies. 
Both games are to be held at the National Stadium in Riffa with a 7 pm kick-off. 
The Philippines will be boosted by the presence of Neil Etheridge and Luke Woodland. Shot-stopper Etheridge plies his trade in the Premier League (PL) with Cardiff City while Woodland had been a former Bolton Wanderers and Oldham Athletic midfielder. Alvaro Silva, Amin Nazari along with Bundesliga fame Stephan Schrock will also feature in the friendly. 
After former England captain Terry Butcher put down his papers, senior football advisor, Scott Cooper is in charge of the Philippines national team. 
China, coached by former Juventus and Italy manager Marcello Lippi, is also expected to field a full-strength squad on Monday. 
Bahrain have two more friendlies lined up in October against Syria and Palestine. This will be their sixth participation in the continent's marquee tournament since their first appearance back in 1988. Their best performance was in 2004 when they finished fourth out of 16 participating teams. 
Bahrain will start their Asian Cup campaign against hosts UAE in the inaugural match of the competition on January 5, 2019. 
24-man Bahrain Squad: 
Sayed Dhiya Saeed (Al Nasar); Sayed Shubbar Alawi, Kumail Abdulla, Ahmed Abdulla, Ibrahim Habeeb, Ali Madan, Mohammed Sahwan, (Al Najma); Abdulla Yusuf (East Riffa); Ahmed Jumaa, Jamal Rashid, Isa Moosa, Abdulla Abdo, (Muharraq); Ali Isa, Hussain Jameel (Al Shabab); Abo Baker Adem, Kumail Al Aswad, Ali Haram (Riffa); Sayed Redha Isa, Yousif Habeeb (Malkiya); Mahdi Abduljabbar (Ettihad); Jassim Al Shaikh (Al Ahli); Ahmed Bu Ghammar (Al Hidd); and Ashraf Waheed and Ahmed Moosa (Manama).