Adidas Tango League brings together hundreds of football-loving youth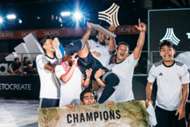 The second edition of the Adidas Tango League, a first-of-its-kind urban football competition at SCAPE, hosted over a hundred attendees as football came to the streets of Singapore from stadiums on 26th August 2017. 
From over 30 teams who applied for participation, a lucky eight were chosen at random and they went head-to-head in a battle for supremacy while also getting the chance to challenge local football stars in an exhibition match, such as Hassan Sunny, Izwan Mahbud, Shahdan Sulaiman, Izzdin Shafiq, Nazrul Nazari, Khairul Nizam, Fabian Kwok, well-respected football legend, Aleksandar Đurić and others. 
The competition was won by Team Happy Family (HF) who defeated Team JSSL in an emphatic final which ended 5-0. They won SGD 1,500 worth of prizes and team captain, 23-year-old Luis Lim Boon Keat shared, "Tango League is really a new concept and it was an amazing experience for us. Although the other team put up a strong fight, it was our team chemistry and on-court creativity that made the difference.
"My advice for the youths is to not be afraid to do something different. Creativity is everything – without creativity, football would be boring."
18-year-old Mohd Hasif Bin Mohd Norsani from team XEPHOS shared, "We were really privileged to have been selected for this once-in-a-lifetime experience. Watching the local players on television or live during matches has always inspired us and it was really exciting for us to have the opportunity to play against them - we got to learn a lot during the match too!"
25-year-old Muhammad Nurul Islam Bin Abdul Razak of Team HF won the Tango League's MVP award and a one-year boot deal from adidas. He said, "The competition was tough but our team managed to prevail. Football is not an individual game. Without the support of my team, I would have not been able to win the title."
The brand also welcomed its newest addition to the adidas Creator family, Singapore international footballer, 26-year-old  Safuwan Baharudin . Safuwan was part of the Singapore national under-23 squad which clinched Bronze at the 2009 and 2013 Southeast Asian games.
He is known for his ferocious technicality, speed and strategic read of games and has played in the A-League with Melbourne City, and is currently playing in the Malaysia Super League with PDRM FA.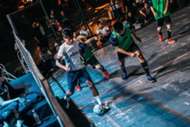 Joseph Lee, Brand Manager of adidas Singapore shared, "Following the success of the first edition of Tango League in Singapore, the second event has grown into a massive experience to unite the football community.
"The youth teams displayed an inspiring show of sportsmanship, creativity and perseverance during this event. We constantly challenge ourselves to think of ways to excite youths around sport and the intersection between 'stadium' and 'street' was the perfect platform to do so. It adds an additional dimension to the game by bringing to life pop-culture elements that youths resonate with to the sport they love."
For more information about Tango League, visit www.facebook.com/adidasSG . Join the conversations on Instagram with the hashtag: #adidasSG.