Goal United
Academy View – Health & well-being of elite student-athletes
William Smith, Louvette Neal & Agnes Togbah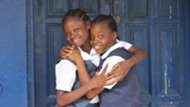 One of the most overlooked factors of a student-athlete's development is health and well-being. A child can attend the best school in the world with globally renowned football coaches and facilities, but if that child is malnourished, lacks access to basic healthcare, lives in an unstable home environment, and/or suffers from mental illness, then it is unlikely the child will reach her full potential.
At Monrovia Football Academy, we prioritize health and wellbeing through four key programs.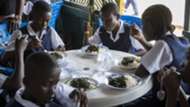 Nutrition
Liberia's Ministry of Health estimates that 33 percent of Liberian children suffer from malnutrition. Liberia's staple food is rice – most often, white rice. It is served at nearly every meal, typically with soup and sometimes with a protein such as fish or chicken. While the cuisine is delicious, it lacks basic nutrients such as Vitamin A, Vitamin C, and Vitamin D.
Our student-athletes have busy days. They arrive at 8:00 am and leave at 5:55 pm. To ensure they have enough fuel to get through the day, we provide a nutrient-infused porridge for breakfast, a post-training snack, a classic Liberian lunch with extra vegetables, and ample water. With two hearty meals and an immediate boost of energy after training, our student-athletes are able to remain focused on their studies, football training, and life skills lessons.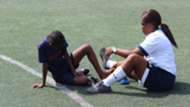 Healthcare
A healthy diet acts as a preventative measure to injury and illness, but children inevitably have lapses in their health. For small-scale injuries and sicknesses, we provide on-site medical care through two accredited and accomplished medics.
In addition, our recently developed partnership with Activa Liberia ensures all of our student-athletes have health insurance. If there is a serious injury on the football pitch, our student-athletes and their families can rest assured that they will receive proper medical treatment.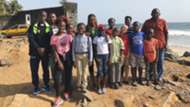 Housing Program
Another key determinant of a child's success is her home environment. If student-athlete returns from school to an overcrowded, volatile, or generally unsafe home, then her growth and development will be stunted. She will not find time to study or sleep properly, and she will not receive the love and support required to succeed at our Academy.
With this in mind, we created an Academy Housing Program in September 2017 to accommodate student-athletes from outside of Monrovia, as well as those within Monrovia living in deeply unstable environments. Eight Academy parents and staff members have welcomed a total of 15 student-athletes into their homes, ensuring our most vulnerable children return home to stable and comfortable situations.
Moving forward, we aim to build a residential campus that will enable a transition away from host families and into dormitories.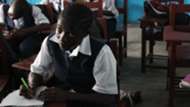 Mental Health
Mental health is a vital issue around the world, and it has even deeper roots in post-conflict settings. Unfortunately, mental illnesses are often hidden from national discourse, discredited as issues of little importance and consequence.
The reality could not be different. In Liberia, mental health problems abound. According to the World Bank, more than 40 percent of Liberian adults suffer from mental illnesses directly related to Liberia's recent civil and health crises.
We aim to unveil a mental health program in September 2018. It will be led and administered by a trained social worker. Both staff and student-athletes will have the opportunity to confidentially seek care and develop a strategy to live healthier, more comfortable, and more fulfilling lives.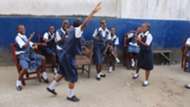 At Monrovia Football Academy, we believe in the total development of our student-athletes. To nurture future leaders in the Liberian context requires a holistic approach. Simply educating bright and talented children will not yield the same results as educating, coaching, feeding, nurturing, and supporting those same children.
Most importantly, we are willing to test new ideas and be bold in our pursuit of a better Liberia.