Premier League
Abysmal Arsenal need miracle to make Champions League after Palace pummelling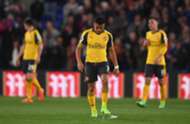 ---
COMMENT
---
Arsenal turned up to Selhurst Park 45 minutes late after their team coach was stuck in traffic. And the players might as well have stayed on it after another dismal showing which exposed their defensive frailties and all but extinguished their hopes of securing a top four spot.
Wenger on worst away losing run
Arsene Wenger and Sam Allardyce have had some fantastic battles over the years, particularly in the first half of the Frenchman's reign at Arsenal where Bolton Wanderers took the mantle of bogey team for the Gunners. Times have changed since then and Allardyce's last league win over Wenger in the Premier League was in May 2010 with Blackburn Rovers.
Monday night's game drew similarities with the recent implosion against West Brom at the Hawthorns, where Arsenal dominated possession yet conceded clear-cut chances and were punished by the set piece prowess of their opponents. Once again, Wenger would have known where Palace's attacking threat comes from but his defenders - in particular Shkodran Mustafi - looked lost against the likes of Christian Benteke and Wilfried Zaha as the Arsenal manager failed to prepare his backline tactically.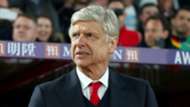 This is Arsenal's worst season under Wenger and he still hasn't informed the club or fans whether he'll be signing a new contract. Recent reports suggest that a power struggle between the Frenchman and chief executive Ivan Gazidis has stalled any potential extension, with Arsenal fans continuing their protests towards the manager after the Gunners went 3-0 down.
Chants of "we want Wenger out" were followed by "you're not fit to wear the shirt" – the latter directed at the players for the first time this season. Perhaps the loyal away supporters who have seen their team implode week in, week out have started to realise that the 11 men on the pitch should share the blame with their embattled manager.
Police open Barkley investigation
Allardyce couldn't take the wily grin off his face as the game petered out and Palace made it 3-0 after Andros Townsend appeared to go down easily in the penalty box under minimal, if any, contact from Hector Bellerin.
It's worth noting that Wenger had never lost a league game against Palace until Monday's game and the Gunners hadn't lost away to the Eagles in the top flight since 1979. History was made on a ground where Arsenal have previously looked imperious and Wenger's side are now be closer to relegation-threatened Palace (20pts) than they are to league leaders Chelsea (21pts).
The worst thing about Arsenal's implosion from a fan point of view is that they have never seen it this bad under Wenger.
Arsenal have conceded three goals in four consecutive league away matches for the first time since 1929 - if that statistic doesn't emphasise how much the club have regressed after last season's second place finish then nothing will.
And to make things even worse, with just eight games of the season remaining for Arsenal, they are now seven points off a Champions League place. They will need a miracle to somehow make it into the top four.