Juventus
A trio with Dybala and Higuain? How Juventus could line up with Cristiano Ronaldo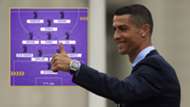 If you can't beat him, sign him!
With Cristiano Ronaldo officially signing for Juventus from Real Madrid, Old Lady supporters are understandably giddy with excitement about the prospect of their nemesis playing for them next season.
After all, their beloved Bianconeri have suffered more than most at the hands of the prolific Portuguese, who struck twice against the Italians in the 2017 Champions League final, as well as netting three times when the two sides met across two legs in the quarter-finals of last season's competition.
Of course, it was the most spectacular of those goals – a sensational overhead kick in Turin in April – which prompted the standing ovation that has so greatly influenced Ronaldo's decision to join Juve . 
It also served to underline that the 33-year-old remains one of the most formidable forces the game has ever seen, but will a change of team also provoke a change of position?
Allegri had many attacking options at his disposal as it was. With Ronaldo on board, the possibilities are almost endless...
---
RONALDO, HIGUAIN & DYBALA ALL TOGETHER
---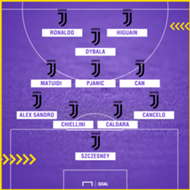 The most exciting prospect, but also the least likely. Gonzalo Higuain's agent, his brother Nicolas, has already stated that the striker is excited by the prospect of being reunited with Ronaldo.
"It would be fantastic if he made a strike partnership with Gonzalo," he told Sky Sport Italia a few days ago. "They know each other so well, as they played about 80 games together.
"If Juve can do it, this will be fantastic, just spectacular." No arguments there; when you throw Paulo Dybala into the mix – either on the right flank or as a trequartista – it begins to feel like fantasy football.
However, the reality is that Juve will have to balance the books in order to cover the cost of the Ronaldo operation, which will amount to approximately €340 million/£300.3m/$400.6m (€100m/£88.3m/$117.8m transfer fee and €60m/£53m/$70.7m a season in wages) over the next four years. 
Higuain is one of Juve's most valuable assets, their highest earner (€7.5m/£6.6m/$8.8m per annum) and, therefore, the man most likely to make way, particularly as he is 30 – six years older than Dybala.
Still, just how intimidating would the Bianconeri's forward line look with all three in their preferred positions?!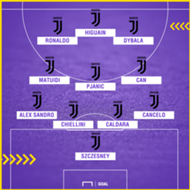 ---
RONALDO AS A LONE STRIKER
---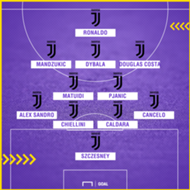 However, Ronaldo's arrival is expected to result in Higuain's departure, thus leaving a void up front. The five-time Ballon d'Or winner could easily fill it.
Granted, the 33-year-old remains in peak physical condition, but moving Ronaldo into the middle would make sense as it would absolve him of any real defensive responsibilities, thus lightening his load and allowing him to concentrate on what he does best: scoring goals.
Of course, Ronaldo has enjoyed great success playing off a more conventional centre-forward but if he does take centre stage in Turin, in every sense, Juve could offer him the most wonderful supporting cast, one with a varied skill set.
Allegri could deploy Ronaldo at the tip of a 4-2-3-1 formation, with the industrious Mario Mandzukic, the Messi-like Dybala and the jet-heeled Douglas Costa in behind.
With that trio offering physicality, creativity and blistering pace in equal measures, it's difficult to see how Ronaldo could fail to score freely in Serie A.
---
RONALDO SPEARHEADING A FRONT THREE
---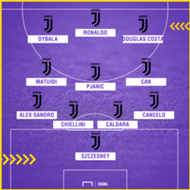 Of course, Allegri might feel that a 4-2-3-1 might leave Juve exposed against stronger sides, particularly in the Champions League. Certainly, a lot of pressure would be placed on the midfield two. 
As a result, a 4-3-3 or 4-3-2-1 would represent a less offensive but arguably more balanced approach, with playmaker Miralem Pjanic flanked by the dynamic Blaise Matuidi – who has underlined his enduring quality at the World Cup – and new signing Emre Can. 
Sami Khedira could also come into the equation but his performances for Germany in Russia only strengthened the belief that he no longer has the legs to excel at the very highest level.
Up front, meanwhile, Ronaldo would have Dybala and Costa providing him with ammunition. Admittedly, Dybala likes to drift towards the right so that he can cut in on to his preferred left foot but it would be difficult to omit Costa, given the way in which he finished last season.
Again, though, Allegri is not without options.
Should he so choose to limit Costa to the role of impact sub – one at which he is most adept – the versatile Mandzukic could be brought into the forward line on the left flank, throwing up the possibility of him interchanging with Ronaldo whenever they see fit.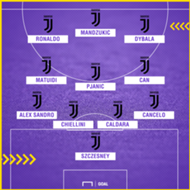 ---
RONALDO & DYBALA UP TOP
---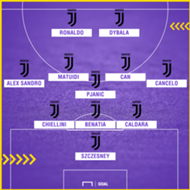 Every football fan has wondered what it would be like if Ronaldo and Messi were to play in the same team. Could it work? Maybe we could find out in theory through Juventus.
Obviously, Dybala is not Messi – and he never will be – but as even the Barcelona No.10 has admitted himself, the pair do like to play the same way. They have similar attributes and styles, which is why Argentina boss Jorge Sampaoli stubbornly refused to play them together at the World Cup.
Ronaldo and Messi, though, are very different players, so there is no reason why Dybala could not be paired with the Portuguese. Certainly, on paper, it should work well: a creator and a finisher in tandem.
Of course, Dybala is a fine goalscorer in his own right – he hit a career-high 22 in Serie A last season – but he has also proven an excellent foil for Higuain. 
Furthermore, on several occasions last season, Ronaldo was used up front in a 4-4-2, most notably when Real coach Zinedine Zidane brought Lucas Vazquez and Marco Asensio into his starting lineup for the Champions League clash with Paris Saint-Germain to excellent effect. 
Juve have their own excellent wingers in Federico Bernardeschi and Douglas Costa but they are now also in possession of two fine attacking wing-backs, with Joao Cancelo having joined Alex Sandro in Turin, meaning the Bianconeri's tried-and-trusted 3-5-2 formation is a very attractive option. 
Not only would it afford Juve greater solidity in midfield, it would also allow them to play recent arrival Mattia Caldara alongside experienced duo Giorgio Chiellini and Medhi Benatia in a stronger back three.
The bottom line is: Allegri will not be short on options. Whatever he decides, there are likely to be a few more standing ovations for Ronaldo in Turin next season.