Bundesliga
'A limit we will not cross' - DFL chief rules out overseas Bundesliga matches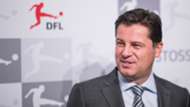 Germany Football League managing director Christian Seifert has ruled out Bundesliga matches being played abroad in the United States.
A Liga fixture could take place in the USA during the second half of the 2018-19 season after a 15-year promotional agreement was struck with Relevent Sports.
The Spanish Footballers' Association have  reacted angrily against the announcement, however, threatening to strike if the match goes ahead.
But despite the commercial attraction to hosting a game in an untapped market such as the US, German officials view the move as a "lack of respect".
"We will never play a league game outside of Germany," DFL chief Seifert told Die Zeit . "That's a limit we will not cross.
"An official league game, which is about points that decide promotion, relegation or participation in the international competition, abroad, is, in my view, a lack of respect for their fans, the players and in the end also Major League Soccer.
"You do not need help from overseas to promote football in this way."
Relevent Sports' chairman Charlie Stillitano is also the brains behind the International Champions Cup, the annual multi-country pre-season event.
The tournament has given Bayern Munich and Borussia Dortmund exposure to the United States market.
But Seifert does not feel the Bundesliga needs to sell its soul and has rejected suggestions they could follow the Liga model and have staggered kick-off times.
"You can rule out that there are as many kick-off times as there are games, as is the case in Spain," he added.
Relevent are keen on ensuring that next year's La Liga fixture includes "one of the top five or six teams" but it remains to be seen if the arrangement will lead to an overseas game.
Stillitano has confirmed no decision has been reached but has indicated that appropriate fixtures are being considered.
"We are working with [La Liga] right now and nothing's been decided. We just have to find the right game in the calendar and we want to do it this season," he explained .
"The other part will be that we want it to be that there's not a cup game [in the week between] so there's a little bit of rest for the players.
"We're trying to respect the game, we are trying to respect the players. We know it's a new thing and obviously in Europe, outside of the Champions League, you are not travelling great distances and this would be a big trip without question."