Ligi kuu Bara
Youthe's masterclass sends Yanga to last 16 Azam Sports Federation Cup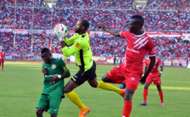 Cameroonian goalkeeper Youthe Rostand sent Young Africans [Yanga] to the round 16 of Azam Sports Federation Cup after a brilliant save of three penalties.
It was thrills, spills and, afterwards, inevitable belly-aches with an edgy which saw Yanga renewing a war and qualify to the round 16 after an amazing win against a 'small team' from Mbeya.
Yanga qualified on 4-3 penalties out of 6 kicks after a 1-1 draw in 90 minutes and 4-4 draw at 5 penalties.
Ihefu FC scored earlier goal at 36 minutes of the play after Yanga defender Andrew Vicent clinching an own goal before late equalizer from Zambian international Obrey Chirwa at 90 minutes.
Tshitshimbi Papy and Obrey Chirwa missed penalties for Yanga while Yondani Hassan kesy, Raphael Daud and Gadiel Michael netted their spots.
Ihefu FC, Andrew Kayuni, Mando Mkumbwa, Jonath - netted their penalties while Abubakari Kidungwe, Emanuel Mamba and Richard Ng'ondia missed.
Elsewhere, Paul Peter scored a hat-trick helping Azam FC to qualify to the round 16 after a massive win against Shupavu FC of Morogoro at Jamhuri Stadium.
Yahya Zayd sealed an opening goal in 45 minutes as Idd Kipwagile added the second goal in added minutes of the first half. Paul Peter netted his hat trick in 56,77 and 87 minutes respectively.
Lineup:
Ihefu FC; Andrew Kayuni, Mando Mkumbwa, Elias Salingo, Alain Merere, Jonathan Mwaibindi, Ibrahim Kalenzo, Godfrey Kitengamlima, Innocent Kapalata/Abubakar Kidungwe dk80, Jose Kinyozi/Steven Kabume dk60, Richard Ngondya na Emmanuel Mamba.
Yanga: Youthe Rostand,Hassani Kessi, Gadiel Michael,Andrew Vicent,Kelvin Yondani,Maka Edward, Juma Mahadhi,Papy Tshishimbi,Amis Tambwe,Amis Tambwe and Geofrey Mwashiuya.