Real Madrid
'You get lucky once but not all the time' – Benzema hails Real Madrid boss Zidane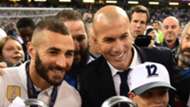 Karim Benzema has paid tribute to Real Madrid boss Zinedine Zidane for his success both as a player and a coach.
Zidane enjoyed a glittering career as a playmaker at Cannes, Bordeaux, Juventus and Madrid, while he became an icon in France due to his performances for the national team as he led them to both World Cup and European Championship glory.
Back Real in 22/1 CL four fold
Since retiring, 'Zizou' has become a successful coach. In just 18 months in the Bernabeu hot seat, he has won La Liga and became the first boss ever to win successive Champions League titles.
"He's an example for everyone due to the success he's had, as a footballer and a coach," Benzema told Fiches.com . "You can get lucky once, but not all the time. After so many successes, it can't just be luck.
"He's had a great impact because we've won titles with him. We are the best team and our trophies prove it. For me, personally, it's not changed much. It's always been very natural and he always advises me well."
Asked what exactly it is about Zidane that makes him such a good coach, the 29-year-old striker replied: "He brings me a lot confidence – although I had a lot to start with! He is patient, calm and knows how to give good advice.
"He's important in the dressing room. He meets with players regularly and talks a lot with them. Everything he says makes sense, so we're always attentive."
Benzema, who has not been active in the last fortnight as he continues to miss out on France action, will hope to take to the field on Saturday when Real Madrid play host to Levante in La Liga, having taken four points from their opening two matches.