Australia
Ljubo Milicevic: What sets Jamie Maclaren apart for the Socceroos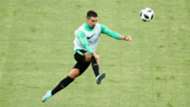 He was only called back to Australia's World Cup squad due to an injury to Tomi Juric, but Jamie Maclaren looms as a vital addition for the Socceroos attacking stocks, according to former teammate Ljubo Milicevic.
Maclaren and Milicevic crossed paths at Perth Glory in 2013, with the young striker quickly impressing the veteran defender.
Though Maclaren's role in Russia remains unclear after limited involvement in Australia's friendlies leading up to the World Cup, Milicevic believes the number nine brings something no other Socceroo does. 
"I think he is different from all the other strikers that we've got in the squad," Milcevic told Goal. 
"He's a fox-in-the-box kind of player, he's difficult to play against.
"I remember training with him at Perth Glory, he was making those runs off my shoulder, which defenders hate because you can't see where they are.
"Not a lot of strikers do that...he's got a lot to offer."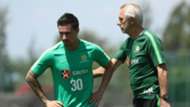 Milicevic cruelly missed out on selection in the Socceroos 2006 World Cup squad and Maclaren was nearly in the same boat after he was cut for Bert van Marwijk's original 32-man World Cup squad despite hitting form on loan with Hibernian.
While Maclaren's eventual inclusion should help Australia moving forward on the pitch, Milicevic can't see the green and gold getting out of a difficult Group C. 
"We're going there to play a few games and that's it," he said.
"And that's the same for 90 percent of the teams going there.
"When's the last time there was a surprise winner at the World Cup?" 
Check out part four of Ljubo's interview with Goal below and stay tuned for his World Cup vibes throughout the tournament.