World Cup
World Cup Ramadan: How Salah, Pogba & more are preparing for Russia 2018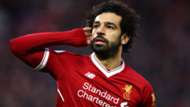 For Muslims around the world, Ramadan is a month dedicated for fasting and abstaining from eating and drinking between sunset and sunrise. It is a month where Muslims are able to purify both their body and soul and practice self-discipline.
Liverpool's Mohamed Salah has won the hearts of the Anfield faithful through his affable nature, prolific goal-scoring ability and the way that he shows his love and respect for his religion openly. 
The Liverpool faithful have already written their own chant in honour of the Egyptian – affectionately titled "I'll be Muslim, too" – and Salah's trademark celebration of kneeling down onto the pitch immediately after scoring and pointing up at the sky in shahadah is as memorable as it gets.
So for several practicing Muslim footballers such as Paul Pogba, Sadio Mane and Mesut Ozil observing Ramadan presents a conflict as they are unable to eat and, more crucially, drink water for the majority of the day.
Though Ramadan did not coincide with the Premier League and will end the day that the World Cup begins, it doesn't mean that it won't have its effects on preparations for Russia this summer.
The holy month coincided with the 2012 Olympics in London, the 2014 World Cup, last year's European Championships in France – and with the long summer days and hot months, its effect on player performance and health can be an issue.
So how will Salah, Pogba and other footballers prepare for the World Cup during Ramadan? Goal brings you all the information.
There's been an interesting phenomenon with the rise of Salah and the magnificent season he had at Anfield. Scoring 44 goals in all competitions, his debut season was one that nobody could have imagined, and his impact couldn't be more remarkable.
Breaking scoring records on a weekly basis and picking up the Premier League Golden Boot, it was a memorable season not just for Salah, but for all Egyptians and Muslim followers around the world.
Salah's impact on English football is not dissimilar to that of former West Brom and England Cyrille Regis. Regis was part of a generation of non-white footballers who made their mark not only on the pitch but off it, as he revolutionised and changed perceptions towards minorities across the nation. At a time where racism and prejudice were intolerable, Regis represented the fact that bigotry due to skin colour was hateful – and Salah's rise to the top as a Muslim footballer has also seemed to have made its mark on the way that the world views Islam as a whole.
"If he's good enough for you/ He's good enough for me/ If he scores another few/ Then I'll be Muslim too," goes the Liverpool fan chat dedicated to Salah. It ends with the words: "He's sitting in the mosque/ That's where I want to be."
It's obvious that Salah's religion plays a big part in his philosophy as a footballer. The 25-year-old did not participate in fasting during the three days leading up to and including the Champions League final, though fasted at the team's training base in Marbella.
In Islam, you are allowed to break your fast "with anything that is adequate need" or if you are travelling during the day, which Salah had done.
Liverpool lost the final 3-1 to Real Madrid in a game that was blighted with controversial play, and Salah was forced off at half-time after being brought down brutally by Sergio Ramos. Despite early fears that he would miss the World Cup – which was met with outrage by Egypt fans and the Egyptian president – it is understood that the forward will only miss three weeks.
Egypt coach Hector Cuper stated that careful measures would be carried out to ensure that the squad would remain in the best shape ahead of the World Cup while still observing Ramadan. 
"The Egyptian Football Association has hired specialists to help me and the players during the fasting month of Ramadan," Cuper told reporters.
"We will organise and monitor their eating and sleeping and hope that this will not affect them badly.
"It may be a problem to the coaches because the players will stop eating from sunrise until sunset, so it will not be easy during training but that is to do with the religion and I can't prevent them from observing Ramadan.
"We are working on this and seeking to find the best way to overcome fasting fatigue and prevent it from hurting the players."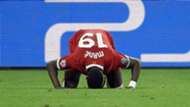 Salah's act of immediately taking to the ground and bowing after scoring a goal is replicated by Liverpool teammate Mane, who does the same after he hits the back of the net. 
The Senegalese-born forward did not break his fast in the lead-up to the Champions League final, which is all the most impressive as he scored a goal and was one of the Reds' most threatening players during the entirety of the game.
Iftar – which is the fast-breaking meal that occurs during sunset – would have taken place 30 minutes before kick-off in Kiev for the final, which meant that Mane only had half an hour to hydrate and re-energise himself with nutrients after breaking a fast of 17 hours.
Mane's World Cup campaign begins on June 19 for Senegal against Poland, so he will have four days of replenishing himself and celebrating Ramadan before taking to the pitch again.
Pogba, another devout Muslim footballer, celebrated the start of Ramadan by traveling to Mecca – a pilgrimmage to the holy Islamic city known as "Umrah".
In a video posted on his Instagram, the Manchester United forward said: "This a beautiful place. I cannot explain my feeling here. Inshallah [God willing] you all will come here one day. Salam."
The visit isn't the French international's first to Mecca, as he made the pilgrimage at the end of last season where he taught a local how to perform his "dab" celebration.
It is not known if he is fasting this month for Ramadan ahead of the World Cup.
Leicester City midfielder Riyad Mahrez is another footballer who made the pilgrimage to Mecca last year.
Ozil is a Muslim footballer who chose not to fast during the 2014 World Cup, which is something that players from other countries such as Senegal, Algeria and Morocco also decided to do. Xherdan Shaqiri, Granit Xhaka and Valon Behrami also did not fast during the finals in Brazil due to concerns for their fitness – the high temperatures of the South American country, as well as their not being permitted to hydrate when playing a physically-demanding match is understandable.
Members of the Algeria national team fasted during their last-16 tie against German, despite receiving permission from religious authorities that they were allowed to forego it – but goalkeeper Rais M'bolhi broke his fast with dates and water at half-time.
Preparations and training during the World Cup were altered as well – such as evening training sessions after iftar and ice baths.
Dutch manager Pim Verbeek who is in charge of Oman - faced similar challenges managing Morocco's Under-23 team and he altered his training sessions to better fit his Muslim players.
"Of course it's different. You train once a day, you would ideally like to train twice a day," he told reporters.
"Our evening sessions have been good and we're saving energy for the game."
Understandably, coaches of national teams have been understandably upset when choices made by their players about fasting during a major tournament are questioned or criticised.
Former Algeria coach reacted angrily when asked about the situation: "This is a private matter and when you ask this you lack respect and ethics. The players will do as they wish and I would like to stop this controversy," he told reporters.
"Those who continue criticising our team and my actions, I think it's shameful. But I will continue [as coach], I will continue working with this team. I'm sorry that you continue criticising what I do."
Liverpool manager Jurgen Klopp also highlighted the importance of privacy and respect during Ramadan when asked about Salah ahead of the Champions League final.
"Religion is private, how I understand it," the German told reporters.
"Nothing to say about that but all fine you will see him out there. In training he is full of power."
In a recent friendly match between Tunisia and Portugal, goalkeeper Mouez Hassen discovered an extremely clever way to help his fasting teammates out – as he feigned an injury during sundown, where fasting breaks, to allow his teammates to replenish with dates and fluids.
The tactic worked – after falling 2-1 behind to Portugal, Tunisia bounced back following Hassen's injury break and equalised to make the score 2-2.
Tunisia fans noted that Hassen's injury occured precisely between the 47th and 58th minutes play – with Hassen tweeting "I was hurt, bruv" though his teammate appeared to be in on the joke, stating that he knew what he was up to.
J'avais mal frero 😂😂😂

— Mouez Hassen (@hassen_mouez) June 3, 2018
The World Cup begins on June 14.