Tunisia v England
World Cup 2018 diary: Jazzed up Ronaldo impressions with vodka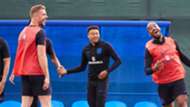 Mexico brought defending champions Germany crashing down to earth on day four at the 2018 World Cup, while Brazil had their favourites' tag stained by Switzerland.
A free-kick specialist had the final say in Serbia v Costa Rica on the back of a jaunty pre-match soundtrack.
Elsewhere there was a take on one of Cristiano Ronaldo's favourite moves, appreciation for a famed local tipple and lots, lots more.
COSTA RICA BRASSED OFF AS SERBIA TRIUMPH
Sunday saw Samara host its first World Cup game, as Costa Rica and Serbia met in Group E's opening fixture.
The contest was settled by Aleksandar Kolarov's superb second-half free-kick, but the real stars of the show were to be found outside Samara Arena in the build-up to kick-off.
The stadium, which looks like a huge UFO, is surrounded by vast expanses of concrete and felt largely soulless 24 hours earlier during the teams' training and pre-match media commitments.
However, come game day, those same areas were trodden by enthusiastic groups of supporters from both nations - all serenaded by a brass band.
The nine-strong ensemble provided a cheerful soundtrack to the rest of the festivities, many fans stopping in the sunshine to take videos of the musical accompaniment, before moving on to either queue up for a non-alcoholic beer or take turns in trying to beat a robo-keeper from the penalty spot.
What better way to warm up for #CRC v #SRB than with a brass band? #WorldCup @OmnisportNews pic.twitter.com/WoRvoWtuHL

— Harry West (@West1882) June 17, 2018
SIUUUUU DO YOU THINK YOU ARE, JESSE?
The feelgood factor around Gareth Southgate's youthful England squad reaches a crossroads in Volgograd on Monday, when they face Tunisia in their Group G opener.
Hard results will inevitably be needed to prolong the goodwill sent towards a vibrant squad, who have charmed fans and media alike.
In their final pre-match training session at their Repino base, the usual japery was in evidence among a group of 23 footballers who genuinely seem to delight in one another's company.
Raheem Sterling brought his razor-sharp reactions and lightning pace to a Kabaddi-style warm-up, before Jesse Lingard celebrated beating Manchester United team-mate Marcus Rashford in a sprinting drill by unfurling his own take on Ronaldo's famous celebration. Maybe he'll have a chance to break it out against Tunisia?
All 23 England players present and correct this morning. Next stop Volgograd for Southgate's men#WorldCup #ENG @OmnisportNews pic.twitter.com/sS2Exm3po5

— Dom Farrell (@DomFarrell1986) June 17, 2018
YOU TECH THAT BACK! SOUTH KOREA'S SHIN WON'T PLAY EVERY GAME
There's been a strange undercurrent to the build-up to Sweden versus South Korea. One of the less-hyped opening group games between two respectable football nations has become mired in peculiar acts of skulduggery.
Each side has (through media reports, mostly) accused the other of spying on their preparations, while South Korea took the unorthodox route of swapping player numbers to confuse their opponents' western senses.
Head coach Shin Tae-yong was happy to admit to that, but one stereotype put forward in his pre-match news conference was met with short shrift indeed.
When a Russian journalist asked whether the South Korea's preparations included the use of video games and elaborate IT, in keeping with the nation's reputation for cutting-edge technology, Shin gave himself a long time to ponder before replying: "I'm not too sure how I can answer that question. It's a little bit difficult. I don't think I understood the point of the question."
You can't say he isn't honest, at least.
ONE BOTTLE? MAKE IT TWO!
World Cup debutants Panama are set to make history and their head coach is prepared to do something crazy if the newcomers make it out of the group in Russia.
Panama are not expected to progress from Group G, which consists of Belgium, England and Tunisia, as they prepare for Monday's uphill battle against the Red Devils in Sochi.
However, if the Central Americans – who denied the United States a spot at the showpiece tournament following a dramatic conclusion to CONCACAF qualifying – manage to make it to the knockout round, Hernan Dario Gomez is willing to drink "two bottles of vodka".
The former Colombia and Ecuador boss was joking but don't put anything past the entertaining 62-year-old.
Eventful presser from Hernán Dario Gomez ahead of #PAN's #WorldCup debut against #BEL.

Asked if he would do something crazy like drink a bottle of vodka if Panama make it out of Group G, he smiled and said: "Of course! I'll drink two bottles."@OmnisportNews @OmnisportWC pic.twitter.com/hDwEfcHMJl

— Sacha Pisani (@Sachk0) June 17, 2018
COSSACKS, STOVEPIPE HATS, SMOKED FISH AND THE BEAUTIFUL GAME
"It's so strange to see people from all over the world in my home town," a local told me in Rostov-on-Don.
Strip away all the criticism of FIFA's continued commercialisation and commodification of the event, and the essence of the World Cup can still be found.
In the capital of Cossack country on Sunday it was hard to miss, as Switzerland fans in novelty stovepipe hats mingled with Brazilians wearing traditional Russian fur caps, albeit in the green and yellow of the Selecao - a brave sartorial choice in dry heat on the banks of the Don.
Fans of #BRA starting to make their presence felt in Rostov#WorldCup@OmnisportNews pic.twitter.com/bahfg3Atyp

— Iain Strachan (@iainstrachan) June 17, 2018
Women shopping for smoked fish from the Black Sea and locally grown fruit and vegetables in what was once Russia's biggest market stopped to take pictures of their exotic visitors.
The carnival atmosphere built to a crescendo, as samba music rang out and air horns blared around watchful statues of Pushkin, Chekhov and local heroes of the October Revolution.
Nearly 101 years on from that seismic event, there was a different kind of upheaval today, as the regular rhythms of life in Rostov were subsumed into the noise and colour of the only game in town. The beautiful game.