Opinion
Will England learn from Guardiola like World Cup winners Spain and Germany did?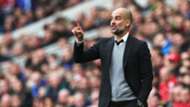 ---
COMMENT
---
There was some debate on social media in the wake the Lukas Podolski goal which sunk England on Wednesday night.
'Stones plays like he's towing a trailer'
A Pep Guardiola fan account on Twitter - @GuardiolaTweets – posted the goal as well as the 45 seconds of Germany possession leading up to it with the caption: "German football Culture post Guardiola #ThePepEffect #BuildUp".
There were 12 passes in the build up to the goal, many of them coming from Barcelona goalkeeper Marc-Andre Ter Stegen before a key run by former Guardiola man Joshua Kimmich got the Germans moving quickly up-field.
The general conclusion drawn from the footage on that basis was that German football could be split into two eras – Before Guardiola and After Guardiola.
It would not be strictly accurate to say that and there were plenty of people pointing it out. There is no doubt that Guardiola left a legacy after three seasons at Bayern Munich but they were accustomed to playing possession football long before his arrival.
Pep's forbearer Louis van Gaal set the basis for Bayern to follow - and for Pep to fine-tune - but the Germany goal did indeed bear hallmarks of the patient build-up play favoured by Guardiola. He has had an undeniable influence on the Germany coach Joachim Low.
While Guardiola might not have been in Germany long enough to be given too much credit for their 2014 World Cup win there is no doubting that Low took many of his cues for that tournament success from the work done by Guardiola during his first season at Bayern.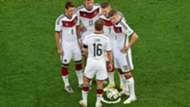 Six of Pep's players – Manuel Neuer, Jerome Boateng, Philipp Lahm, Bastian Schweinsteiger, Toni Kroos and Thomas Muller were mainstays for Low in Brazil while another Bayern star in Mario Gotze came off the bench to win the trophy in the final.
Yaya Toure: Defending is annoying
The manner in which Low tried to use Lahm as a midfielder – like Guardiola did at club level – also suggested the Bundestrainer was not too proud to adopt policies learnt from the Spaniard.
While the basic German formula has been implemented across various youth levels since the turn of the millennium, it takes constant fine-tuning at senior level to ensure Germany were not counteracted by teams who had worked them out. That is Low's job and it isn't always easy.
Germany have become more comfortable as a possession-heavy and patient team since Guardiola's arrival at Bayern and so we can say he's had an impact on the identity of German football.
Likewise his Barcelona team provided the spine of the Spain side which won the 2010 World Cup. To Luis Aragones's Euro 2008 winners Vicente Del Bosque added Pep's Gerard Pique, Sergio Busquets and Pedro.
Xavi Hernandez, Andres Iniesta and Carles Puyol were well-established by that stage while David Villa and Cesc Fabregas would both move to Barcelona in the seasons following.
While the football might well have been slightly adjusted from what was on offer from Barca in La Liga, there was no doubting the influence Guardiola had on that Spain team. The Barcelona boys called the shots in terms of how the game was played.
It rubs off, the Guardiola style. International success has come when coaches adopt the Guardiola format and tweak it to their own specifications. Guardiola was coach of the league champions in the country which won the last two World Cup tournaments.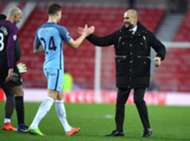 Right now it's hard to see England winning the World Cup in Russia next year - even if Pep's Manchester City end up as champions in 2018. England do, however, have the right coach in place to move in the Guardiola direction.
Jesus sets ambitious return date
Gareth Southgate says the right things about possession football and playing out from the back. He has praised John Stones - for example - for his development under Pep at the Etihad and will use him in a similar way.
The "England DNA" blueprint drawn up at St George's Park is basically an imitation of what Germany and Spain did for success; win the ball back quickly, use possession wisely, look for the right moment to penetrate. It is the kind of football that Sam Allardyce would have avoided at all costs had he stayed in place. Remember, too, that Big Sam famously declared he'd love to teach Stones "how to defend". 
There are big similarities between the styles of play that Guardiola implements and which England are aiming to produce. Germany and Spain both fine-tuned their systems based on Pep's playing style or else with players who knew it inside out.
Generally the English boss most matches they play in terms of chances created and possession. The players are generally comfortable playing like that until, that is, they are asked to do it against a higher calibre of opposition.
A deeper influence by Guardiola on English football as a whole would help. He has already been credited for leaving a lasting impact in Germany by the likes of Paul Breitner, Lothar Matthaus, Oliver Kahn and Karl Heinz-Rummenigge.  
Only Stones, Joe Hart, Fabian Delph and Raheem Sterling in the current set-up have any direct experience of working with Pep, but it's a start. 
Guardiola wanted to come to England to learn but he can also teach. If things go to plan and he implements his playing style successfully at Manchester City then there will be a natural tendency on the part of other teams to follow suit. We could reach a stage where we see one Manchester City and many imitators - including the national team.
Pep has left a footprint everywhere he's gone before and his presence at City could well be good news for everyone - as the last two World Cup-winning nations have found out.