UAE
Why UAE, Qatar and Saudi Arabia could all be part of the 2026 FIFA World Cup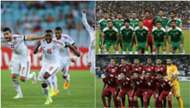 The United Arab Emirates and Qatar are both enduring a bleak 2018 World Cup qualifying campaign as has often been the case. 
UAE have only featured at the World Cup once in 1990 while Qatar are still looking for their maiden appearance. Saudi Arabia however have graced the tournament four times and look set to seal a fifth World Cup berth in Russia.
In less than a decade though, the Saudis may be joined by their chief GCC (Gulf Cooperation Council) rivals on the biggest international stage of them all.
The Bureau of the FIFA Council – comprised of the FIFA President and the presidents of each of the six confederations - convened this week and agreed upon a new list of slot allocations for the 48-team 2026 FIFA World Cup.
Their recommendation will be passed on to the FIFA Council for ratification, which is expected to be a part of the agenda when they next convene on May 9.
What a 48-team World Cup would look like
The significance of that to the GCC footballing countries is that the new 48-team format will bump up the AFC (Asian Football Federation) slots from four plus play-off slot to eight plus a possible two more play-off slots.
Saudi Arabia are curently fifth in the FIFA rankings in the AFC (57th overall) while UAE and Qatar sit in seventh (68th overall) and eighth (84 overall) respectively.
If the new format were to be active now, all three teams should feel primed to secure one of the eight confirmed slots available or at the very least win one of the play-off slots.
While UAE and Qatar have grown accustomed to seeing Saudi participate at the World Cup having missed out on qualification themselves, they may soon get the oppotunty to join their counterparts with the odds swinging heavily in their favour.