Ghana
Why Polo wants Kwesi Appiah to check himself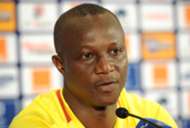 Former national star Mohammed Polo wants James Kwesi Appiah reappointed as Ghana coach, but advises the 56-year-old to carry out a retrospective analysis on what went wrong during his first stint.
The current coach of Sudanese side Al Khartoum, Appiah is among three men penciled down as possible replacement to Avram Grant, whose tenure expired last month.
It will be Appiah's second stint, if handed the job, after leading the side between 2012 and 2014 - the highlight of which was a disastrous campaign at the 2014 World Cup in Brazil.
"I think Kwesi Appiah is the right local coach for the Black Stars, if you compare him to those we have in the system now," Polo told GNA.
"He has been there before, he is tried and tested, we all saw what he did for the team and I am confident that his second coming will be better.
"He will have to assess himself to know what he did wrong earlier, why people are saying he could not manage the egos of the stars. If there was a problem, he should be able to find an antidote to that problem.
"I do not believe that he can't control the players; there was a problem which was bigger than him and we all saw what happened in Brazil 2014. 
"I think he was not given the chance to put his feet down and take right decisions and I am sure if he returns it will be different."
At the World Cup, Appiah had a famous fall-out with Kevin-Prince Boateng, leading to the midfielder's dismissal on the day of Ghana's third group game.
On that same day, Sulley Muntari was also sent home for attacking FA member Moses Armah 'Parker'.
That was only after the team had boycotted training sessions in protest over unpaid appearance fees.
Ghana eventually fell 2-1 to Portugal and were sent packing after the first round for the first time since their 2006 historic qualification.
Michael Essien's famous refusal to warm up during the match for his substitution into the fateful game cannot be forgotten as well.