European Championship
Why France fans are booing Olivier Giroud – and why it has to stop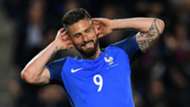 ---

COMMENT
---
In the space of 20 minutes of France's comfortable 3-0 victory over Scotland on Saturday, Olivier Giroud summed up the paradox he poses for fans of Les Bleus as the country prepares for their attempt to win Euro 2016.
Shortly before the start of the match he finished his warm up practising his shooting with Didier Deschamps' assistant Guy Stephane. There was nothing unusual about that, only the Arsenal man failed to find the target with any of his efforts on the goal of Benoit Costil, France's third-choice keeper. As he fired the ball over and again, fruitlessly seeking the net, he smiled ruefully as fans at Metz' Stade Saint-Symphorien looked on incredulous.
Everything changed when the real action started; within eight minutes the 29-year-old had scored a cheeky flick from a Bacary Sagna cross. Half an hour later he added a second, as he proved the outstanding influence in France's comfortable win.
Over the last three weeks, Giroud has run the gamut of emotions. In Biarritz on May 17 he was part of a France team that was acclaimed in the southern region, better known for its rugby and therefore rarely seen by the national football team. But returning to Paris and the subsequent trip to Nantes proved terrible for the attacker. Persistently jeered, he became the scapegoat of the side – the price he has had to pay because of Karim Benzema's absence, which has been deemed unjustified by a minority. Even his goal against Cameroon in a 3-2 success was accompanied by only moderate enthusiasm.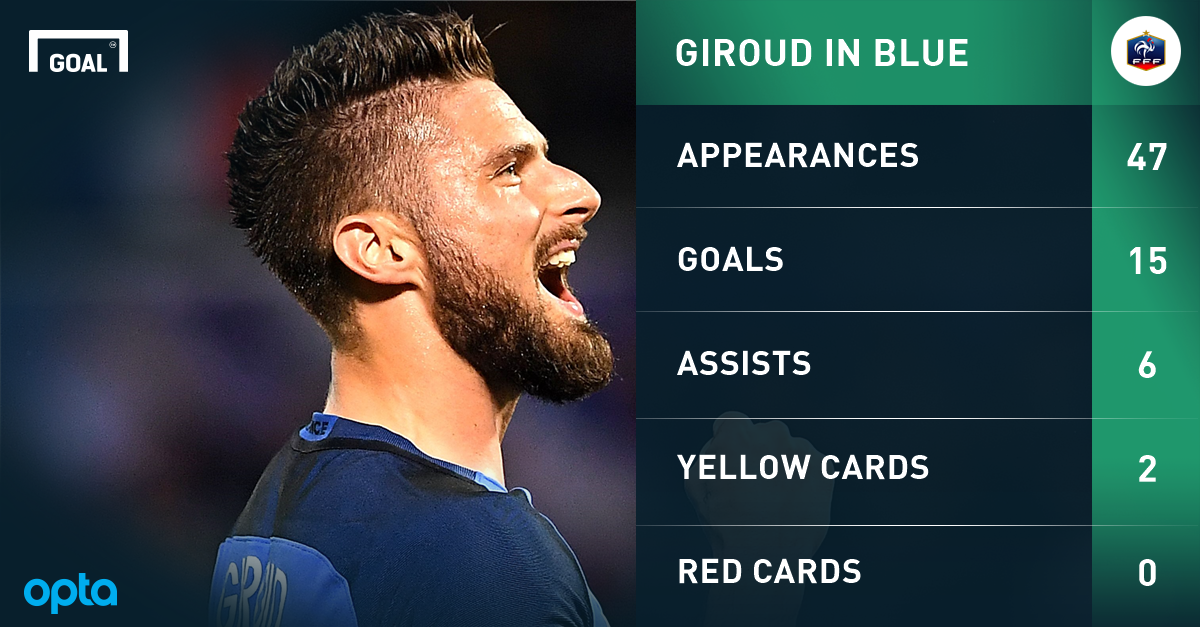 On Saturday morning though, the atmosphere was very different in front of the team hotel in Metz, when he signed autographs for a group of around 50 fans who had come to try and speak with their idols.
Nothing will change that fact that Giroud is a player set to divide opinion. But his double at the weekend will offer the forward some well-earned respite.
"It's warmed my heart," he admitted after the match. "But I never put too much pressure on myself after what happened in Nantes. I know how to distance myself from these things. It would be lying if if I said that it didn't affect me. But I have bounced back on the pitch, and that's the best response."
Giroud's most recent statistics with France are encouraging, with seven goal in his last five starts. He has scored in all of those matches, and only Karim Benzema can boast an equal record over the course of the last 10 years. Against Scotland he celebrated his fourth double for France in 49 matches; Benzema only has five in 81.
The No.9 has many supporters, too. Speaking to Goal, Jerome Rothen, a Champions League finalist with Monaco in 2004, stated his belief that the forward's record is formidable.
"In France and elsewhere there are always critics," he said. "Certain people feel that Benzema's non-selection is due to Giroud, but even if Benzema was there, Giroud would have been on the list, too.
"Maybe he's paying for an average season at Arsenal, but with France he's always given everything, played well and scoring goals. What more can you ask of him? Nothing. So those jeering must stop.
"For my part, I have confidence that he will continue to score goals and transform this negative energy into something positive before winning the public over. When you do that, there's no sweeter victory."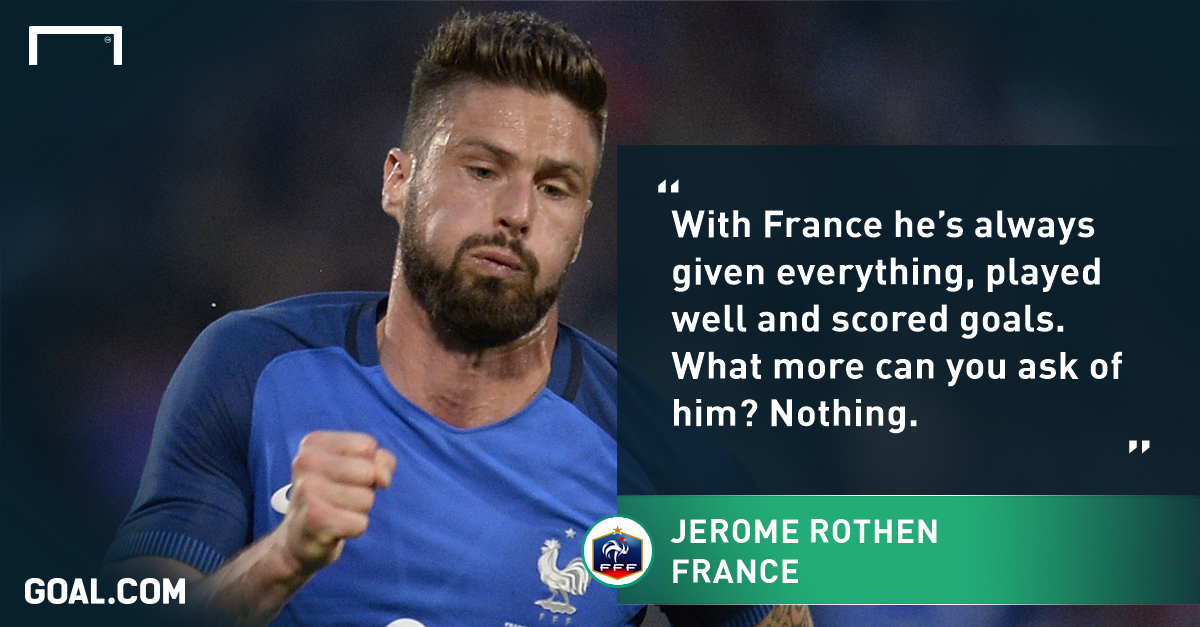 "Olivier has already responded to Nantes," Deschamps said. "As Patrice Evra said, the players are united. When there is one in difficulty, they are all with him. Olivier was heckled, but that's part of the job. I've confidence in him and his team-mates, too.
The coach is conscious of what Giroud can bring to the team. He has a unique profile among France's attackers and on the field his link-up play is very important. All of the wingers used at the weekend systematically sought out Giroud to help them create breaches in the Scottish defence. But as the centre forward, he must do more than perform well with his back to goal; he must take chances, and against Scotland he did that perfectly.
"Once again he proved that he's very capable," Sagna said. "Due to the criticism he's received it's not always easy to see, but he's France's forward."
Giroud has shown he has the broad shoulders to assume the responsibility – and he won't let one mediocre match weigh him down.