Bundesliga
Who is Jadon Sancho? England's Bundesliga assist king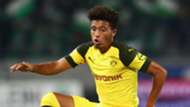 Borussia Dortmund's unbeaten start to the 2018-19 Bundesliga campaign was at risk on Saturday as they trailed Bayer Leverkusen 2-1 with just 22 minutes left to play. As has been the case for much of this season so far, though, Lucien Favre had an ace up his sleeve.
Christian Pulisic was hauled off in place of former Manchester City hopeful Jadon Sancho, and just 70 seconds later Dortmund were level - Sancho and Marco Reus linking effortlessly down the right flank before the latter tucked the ball past Leverkusen goalkeeper Lukas Hradecky.
By full time Sancho had also assisted a Paco Alcacer strike, Dortmund's fourth goal of the evening.
Sancho and Reus have now both had a hand in six goals this season, with Dortmund not only top of the Bundesliga table but also in the goalscoring rankings. It's Sancho who stole the show on Saturday, however, and who is being tipped to eventually challenge the elite names in the game.
Remarkably, Sancho is yet to start a single Bundesliga fixture this season yet has more assists (five) than both Cristiano Ronaldo (four) and Lionel Messi (four).
| Name | Assists | Minutes Played |
| --- | --- | --- |
| Jadon Sancho | 5 | 124 |
| Cristiano Ronaldo | 4 | 630 |
| José Holebas | 4 | 624 |
| Tanguy NDombele | 4 | 621 |
| Dimitri Payet | 4 | 605 |
| Lionel Messi | 4 | 575 |
| Fabio Quagliarella | 4 | 562 |
| Jony | 4 | 526 |
| Benjamin Mendy | 4 | 360 |
Sancho's sparkling form has been rewarded with a new, long-term deal at Westfalenstadion, keeping the 18-year-old winger locked to the club until 2022, while Gareth Southgate named him in his latest England squad.
"He's brutally good, he can do things I have rarely seen," Dortmund sporting director Michael Zorc said upon news of his extension. "Even though he is a different player type - the extent to which his actions are not to defend - he reminds me of Ousmane Dembele."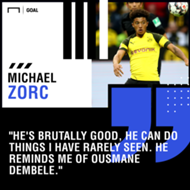 Things could have been very different for Sancho, however, had he opted to remain at the Etihad last summer.
One of England's most exciting prospects, the attacker's potential has been clear for many years and City worked hard to secure a deal with Watford ahead of other Premier League clubs in 2015.
Like many of City's young talents, though, Sancho's route to the first-team was blocked by Pep Guardiola's star-studded squad. Phil Foden and Brahim Diaz have since been offered a glimpse of life in the City midfield, though Sancho's switch to the German top-flight has been an unquestionable success.
"I'm very glad that I decided to change to Dortmund just over a year ago, because everything turned out to be true: this city lives football like no other, and at BVB young players are given playing time," Sancho told the club's website. "Here I can develop excellently. I am completely happy and satisfied and proud to be part of this team."
True, the change in scenery may have been a factor to Sancho quickly adapting to life on the pitch, but the belief in developing their young players and allowing them to play with complete freedom is what has led to his stunning cameo roles over the past year.
Each time Sancho has taken to the pitch for Dortmund, number seven proudly etched on his back, there's a genuine confidence that comes with him, almost an arrogance, as if Guardiola is watching on at what could have been.
And while the Catalan coach has built a record-breaking, Premier League title-winning squad in Manchester, the club may feel as though they've let a genuine star slip from their grasp over the coming years.
Sancho currently has everything in place to establish himself as one of the finest attacking outlets in Europe. His creative numbers equate to those challenging for the Ballon d'Or and he continues to be likened to those who have formerly been shunted into the spotlight at an early age.
Former Dortmund and current Barcelona forward Dembele has already been suggested, while Dan Micciche - who worked with the youngster at U15 and U16 level with England - believes that Sancho has the potential to become England's Neymar, should he continue to be afforded playing time in Germany.
"Provided he doesn't become restricted he could be our Neymar-type player - in terms of being unpredictable, playing on that left-hand side. He's flamboyant, entertaining to watch. But like Neymar, he's effective with it. In most games he'll create something - it's not a beauty contest. He's not on the pitch flicking it over someone's head for the sake of it."
Sancho now has at least four years at Dortmund to prove why his name is worthy to be muttered in the same breath as the best the game has to offer.