Manchester City
Where do Pep's Manchester City rank among the greatest teams in Premier League history?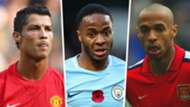 Manchester City clinched the Premier League title on Sunday after second-placed Manchester United lost 1-0 at home to West Brom.
Pep Guardiola's side equalled one record by being crowned champions with five games to spare and are on course to smash several more before the season's end . 
So, with that in mind, where do the new champions rank among the greatest teams the Premier League has ever seen?
---
6. MANCHESTER UNITED 1995-96
---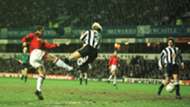 "You can't win anything with kids." So said Alan Hansen after Manchester United's opening-day defeat at Aston Villa.
The former BBC pundit was soon made to regret those words, though, as David Beckham, Paul Scholes, Nicky Butt and the Neville brothers, Gary and Phil, played a major part in helping the Red Devils become the first English club to win the double twice. 
United had trailed Kevin Keegan's expensively assembled and wonderfully exciting Newcastle side by 12 points in January but, inspired by the enigmatic Eric Cantona, the irrepressible Roy Keane and the almost unbeatable Peter Schmeichel, Alex Ferguson's men came storming back to clinch the title with a 3-0 win at Middlesbrough on the final day of one of the most memorable seasons in Premier League history.
Cantona had actually missed the start of the campaign due to his suspension for kung fu-kicking a Crystal Palace fan but he ended the season as United's top scorer, with 14 goals, none more crucial than the one that earned a 1-0 win over Newcastle in their momentum-shifting, top-of-the-table clash at St. James' Park in March.
The charismatic Frenchman also netted the winner at Wembley as United beat old rivals Liverpool in the FA Cup final to put the seal on a historic campaign.
---
5. CHELSEA 2004-05
---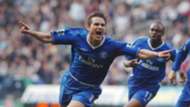 "We have top players," Chelsea's new manager Jose Mourinho mused. "And I'm sorry if I'm a bit arrogant but we also have a top manager."
The self-titled 'Special One' most certainly lived up to his own billing, immediately leading the Blues to only their second ever title, exactly 50 years after their first, and in historically impressive fashion.
Chelsea's success was founded upon one of the greatest defences English football has ever seen, with the likes of John Terry, Ricardo Carvalho and William Gallas forming an almost impenetrable backline in front of the brilliant Petr Cech that conceded just 15 goals and kept an astounding 25 clean sheets - both Premier League records.
Of course, they were greatly helped by Claude Makelele, who redefined the role of the defensive midfielder, as well as providing the platform which allowed dazzling wingers Arjen Robben and Damien Duff to go and strut their stuff.
Didier Drogba and Eidur Gudjohnsen were both excellent up front but Frank Lampard was undeniably the key man in Chelsea's under-rated attack. The England ace created 18 goals and scored 13 - including the decisive double at Bolton - as the Blues, who also lifted the League Cup, racked up a record-breaking 95 points.
---
4. MANCHESTER CITY 2017-18
---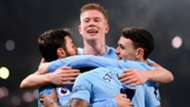 Manchester City's flaws have twice been exposed by Liverpool this season, resulting in the loss of their unbeaten Premier League record and Champions League elimination, while Manchester United gatecrashed their title party at the Etihad. As a result, in an era of knee-jerk reactions, there has been a rapid reappraisal of just how good Pep Guardiola's side truly are. 
However, their numbers are as impressive as their dominance of this season's Premier League. They have won the title thanks primarily to their unprecedented 18-game winning streak before drawing at Burnley. They are also still on course to break the records for total points, goals and most wins. 
What makes this City side truly great, though, is the way in which they have gone about rewriting the record books. They have arguably played the most adventurous football with the most fluid system that the English top flight has ever seen. 
Martin Keown of Arsenal's 'Invincibles' (more on them later!) has described City as a collection of "artists" painting pretty pictures in every single game, while Napoli coach Maurizio Sarri claimed that there is no more aesthetically pleasing side in Europe.
"The feeling I get watching Manchester City play, I didn't even get watching Real Madrid last year," he enthused. 
Pep's team are not perfect. No side so overflowing with attacking talent could possibly be flawless defensively. But it is that imperfection, that imbalance, which makes the title and League Cup wnners such a joy to watch. Indeed, they may not be the best side in Premier League history, but they are aguably the most beautiful.
---
3. ARSENAL 2003-04
---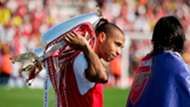 Regardless of whether one thinks that Arsene Wenger is presently sullying his legacy at Arsenal, his 'Invincibles' of 2003-04 will forever remain a Premier League masterpiece, unblemished and unbeatable. 
Billionaire businessman Roman Abramovich had arrived in London intent on usurping the Gunners as the capital's top club - Gunners vice-chairman David Dein quipped, "he's parked his Russian tanks on our lawn and is firing £50 notes at us" - but Arsenal decided against splashing the cash, with Jens Lehmann their most notable acquisition, at a cost of just £1.5m.
Instead, they focused their attention on retaining the services of France internationals Patrick Vieira and Robert Pires and that policy paid off, with both playing pivotal roles in the Gunners going the whole season undefeated. 
They enjoyed some good fortune along the way, with Ruud van Nistelrooy missing a last-minute penalty for Manchester United at Old Trafford - which provoked a most unsavoury reaction from several Arsenal players - but, for the most part, Jens Lehmann was fantastically well protected by Sol Campbell & Co. 
Thierry Henry, though, was Arsenal's difference-maker, an attacker as elegant as he was effective. With his pace and poise, he repeatedly inspired them to victory, most notably in a rousing, come-from-behind win over Liverpool at Highbury and he was the embodiment of the team's mix of perspiration and inspiration.
As a rightly proud Wenger declared after watching his side crowned champions at the home of north London rivals Tottenham, "We've been remarkably consistent, haven't lost a game and we have played stylish football. We have entertained people who just love football."
---
2. MANCHESTER UNITED 2007-08
---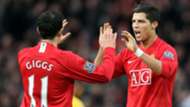 Fate. Manchester United's manager, players and supporters all believed that their club was destined to mark the 50th anniversary of the Munich Air Disaster by winning both the Premier League and the Champions League.
It was far from straightforward; Chelsea pushed them all the way in both competitions. However, a United side containing class acts such as Ryan Giggs, Paul Scholes, Rio Ferdinand, Edwin van der Sar, Patrice Evra and Michael Carrick were not to be denied.
Indeed, in Cristiano Ronaldo they also possessed the best footballer in world football. However, Alex Ferguson deserved immense credit for successfully harnessing the Portuguese player's boundless potential by placing him in a fluid attacking triumvirate alongside Wayne Rooney and Carlos Tevez that had been inspired by Luciano Spalletti's bold striker-less formation at previous European opponents Roma.
Ronaldo hit 31 goals in the league alone, equalling Alan Shearer's record haul for a 38-game season, as United pipped Chelsea to the title by two points thanks to a final-day win at Wigan. 
Ferguson enthused, "If this team goes on now and wins the European Cup, it will be my best ever." And they did just that, beating Chelsea on penalties in a dramatic Champions League final in Russia just a week later.
---
1. MANCHESTER UNITED 1998-99
---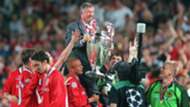 Ferguson may have subsequently claimed that his 2007-08 side were the best he had ever produced but, in reality, the 1998-99 treble winners best embodied Ferguson's footballing values. They were wonderfully offensive and outrageously stubborn; they simply never knew when they were beaten. 
In the FA Cup, they were facing elimination at the hands of Liverpool in the fourth round but scored twice in the last two minutes to triumph 2-1 at Old Trafford. Despite being down to 10 men against a great Arsenal side in the semi-finals, they prevailed thanks to a Peter Schmeichel penalty save and the greatest goal in the tournament's history, courtesy of Ryan Giggs.
In the league, they went undefeated from December 19 to claim the title on the final day of the season with a come-from-behind victory over Tottenham that saw them finish just one point ahead of the Gunners.
As for the Champions League, well, Roy Keane resurrected them in the semi-finals in Turin when all seemed lost before Teddy Sheringham and Ole Gunnar Solskjaer hit injury-time goals to overcome Bayern Munich 2-1 in the tournament decider. 
"I can't believe it," Ferguson exclaimed afterwards. "I can't believe it. Football, bloody hell!"