Pulau Pinang
Westwood slapped with 4 match ban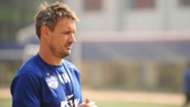 ---
 BY       OOI KIN FAI      Follow on Twitter
---
Football Association of Malaysia (FAM) today announced that Penang's head coach Ashley Westwood has been slapped with a 4-match ban following his altercation with the fouth official during the Super League match between Penang and Perak on the 27 January 2017.
The former Bengaluru FC coach has already sat out of the fixture between Penang and T-Team and will now have to also sit out of further matches against Sarawak (11 February 2017), Pahang (18 February 2017) and Kedah (25 February 2017). On top of that, Westwood is also fined RM2,000.00 and given a stern warning on future conduct.
The FAM disciplinary committee found Westwood guilty of violating Article 51.1 (a) FAM Discplinary Code that governs the "Misconduct towards match officials", Article 59 (a) FAM Disciplinary Code that governs the "Offensive Behaviour and Fair Play" and Article 50.1 (c) FAM Disciplinary Code that governs the "Misconduct towards an opponent or individual other than the match official".
This is certainly not good news for Penang having seen their management reshuffle causing an uproar amongst fans as well as their poor start to the 2017 season. Penang has lost all three of their matches this season and are the only team in the Super League to be without a point thus far.
To make matters worse the former I-League champion, his team has also failed to find the back of the net after 270 minutes of football. During his time with Bengaluru, Westwood has gone through the same punishment via Asian Football Confederation (AFC) for a similar offence committed.
Now more than ever, Penang needs their coach to help them to climb out from the bottom of the table. While some coaches are a lesser presence on the bench, Westwood's style and character indicates his preference to be pitch-side guiding his team.