A-League
Western Sydney Wanderers 2018/19 preview: A German revolution following Spanish inquisition
10:22 AM GMT+8
24/09/2018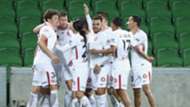 After missing the finals for just the second time in their history, Western Sydney Wanderers will be desperate to get back on track this season.
With Josep Gombau swiftly replaced by German Markus Babbel during the off-season, the red and black must embrace their new coach's philosophy.
Having failed to adjust quick enough to Gombau's Spanish style of attacking football, Western Sydney now look set to play a more conservative brand of German football.
With a number of new players and their stadium still being built, the Wanderers face yet another season of transition which may see them struggle to live up to their former heights.
What will Markus Babbel bring to the Wanderers?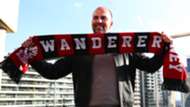 The shadow of Tony Popovic still looms large over Western Sydney with the club's inaugural coach proving a hard man to replace last season.
In Gombau, the club arguably tried to veer too far from their former coach's approach which led to a number of players under-performing and ultimately falling out with the Spaniard.
Fast forward 12 months and the Wanderers now have former Liverpool defender Babbel in charge, a man much more aligned with the club's previously pragmatic style.
The German has forged a solid managerial career to date - earning Bundesliga promotion in Germany and finding some stability in Switzerland with Luzern finishing 5th and 3rd respectively.
Preferring a 4-4-2 or 4-2-3-1 formation, the 46-year-old has revealed his willingness to sit back and absorb pressure when the time is right.
Against Melbourne City in the FFA Cup quarter-finals, the Wanderers staunchly defended their lead with an incredibly compact formation. The approach worked and marks a clear departure from the style Gombau was attempting to introduce to the club. 
While defensive-minded to some extent, Babbel has some work to do with his side yet to keep a clean sheet - but they have found their feet quickly in front of goal scoring eight times across three FFA Cup games. 
Though Babbel will likely bring a more conservative approach to the pitch this season for the Wanderers, the German has also hinted at an underlying attacking mindset.
"My style is that I like to have the ball, for my team to have control," Babbel told The Australian in August.
"I've told the boys if we have the ball then the opposition can't score unless we make stupid mistakes.
"I am not the type of manager to have 10 at the back and wait for a mistake and counter attack. Yeah, you can do that but it is not pretty.
"I want to sit on the outside and enjoy what they are doing on the pitch because I am a football fan."
A German core with some Spanish flair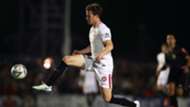 Though Gombau may be gone, his squad remains very much intact with Spaniards Oriel Riera and Raul Llorente both staying put. 
They've also been joined by a trio personally recruited by Gombau prior to his departure in the form of Bruce Kamau, Nick Fitzgerald and Ruon Tongyik. 
Inheriting a squad with the former coach's fingerprints all over it, Babbel has been limited in the transfer market but has been able to build a German core of his own.
German defender Patrick Ziegler and midfielder Alexander Baumjohann have both been brought in and look set to play key roles this season.
While the duo will form the base of Babbel's approach, the German coach is also set to make the most of the Spanish flair Gombau left behind with Riera in particular a vital piece of the Wanderers puzzle.
A number nine in every sense of the word, the striker could soar to greater heights this season under Babbel in a system that could well be built around him. 
New stadium can't come quick enough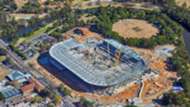 With the new Western Sydney Stadium looking better by the day, one final season split between Spotless Stadium and ANZ is a bitter pill to swallow for the Wanderers.
Now entering their third season of temporary homelessness, the club have begun to feel the pain with last season's average attendance of 11,924 their lowest in history and over 5,000 fewer than the campaign before.
Making the most of home ground advantage is a must for any successful team and the Wanderers won just five of 13 home games last season while Sydney FC lost just once across their 14 home games. 
The temporary pain for Western Sydney should be worth it in the end with a purpose-built stadium set to ensure the club do have a fortress in seasons to come.
In this campaign however, the red and black will likely be vulnerable whether they play home or away and that won't do Babbel any favours as he looks to create a side that likely won't shine straight away.
Predicted finish: 6th
Star player: Oriel Riera
Breakout player: John Roberts