West Bromwich Albion
West Brom fixtures: The Baggies' complete 2017-18 Premier League schedule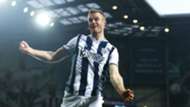 West Brom's fixtures for the 2017-18 Premier League season have been released.
The Baggies will begin the campaign with a home match against Bournemouth and conclude it nine months later against Crystal Palace at Selhurst Park.
After achieving a respectable 10th-place finish in 2016-17, Tony Pulis will hope to add to his squad this summer as he aims to push West Brom further into the top half. Their full league fixture list for 2017-18 is below.
---
WEST BROM'S 2017-18 FIXTURES
---
| Date | Time | Match |
| --- | --- | --- |
| 12/08/2017 | 15:00 | West Bromwich Albion v Bournemouth |
| 19/08/2017 | 15:00 | Burnley v West Bromwich Albion |
| 26/08/2017 | 15:00 | West Bromwich Albion v Stoke City |
| 09/09/2017 | 15:00 | Brighton and Hove Albion v West Bromwich Albion |
| 16/09/2017 | 15:00 | West Bromwich Albion v West Ham United |
| 23/09/2017 | 15:00 | Arsenal v West Bromwich Albion |
| 30/09/2017 | 15:00 | West Bromwich Albion v Watford |
| 14/10/2017 | 15:00 | Leicester City v West Bromwich Albion |
| 21/10/2017 | 15:00 | Southampton v West Bromwich Albion |
| 28/10/2017 | 15:00 | West Bromwich Albion v Manchester City |
| 04/11/2017 | 15:00 | Huddersfield Town v West Bromwich Albion |
| 18/11/2017 | 15:00 | West Bromwich Albion v Chelsea |
| 25/11/2017 | 15:00 | Tottenham Hotspur v West Bromwich Albion |
| 28/11/2017 | 20:00 | West Bromwich Albion v Newcastle United |
| 02/12/2017 | 15:00 | West Bromwich Albion v Crystal Palace |
| 09/12/2017 | 15:00 | Swansea City v West Bromwich Albion |
| 13/12/2017 | 20:00 | Liverpool v West Bromwich Albion |
| 16/12/2017 | 15:00 | West Bromwich Albion v Manchester United |
| 23/12/2017 | 15:00 | Stoke City v West Bromwich Albion |
| 26/12/2017 | 15:00 | West Bromwich Albion v Everton |
| 30/12/2017 | 15:00 | West Bromwich Albion v Arsenal |
| 01/01/2018 | 15:00 | West Ham United v West Bromwich Albion |
| 13/01/2018 | 15:00 | West Bromwich Albion v Brighton and Hove Albion |
| 20/01/2018 | 15:00 | Everton v West Bromwich Albion |
| 31/01/2018 | 20:00 | Manchester City v West Bromwich Albion |
| 03/02/2018 | 15:00 | West Bromwich Albion v Southampton |
| 10/02/2018 | 15:00 | Chelsea v West Bromwich Albion |
| 24/02/2018 | 15:00 | West Bromwich Albion v Huddersfield Town |
| 03/03/2018 | 15:00 | Watford v West Bromwich Albion |
| 10/03/2018 | 15:00 | West Bromwich Albion v Leicester City |
| 17/03/2018 | 15:00 | Bournemouth v West Bromwich Albion |
| 31/03/2018 | 15:00 | West Bromwich Albion v Burnley |
| 07/04/2018 | 15:00 | West Bromwich Albion v Swansea City |
| 14/04/2018 | 15:00 | Manchester United v West Bromwich Albion |
| 21/04/2018 | 15:00 | West Bromwich Albion v Liverpool |
| 28/04/2018 | 15:00 | Newcastle United v West Bromwich Albion |
| 05/05/2018 | 15:00 | West Bromwich Albion v Tottenham Hotspur |
| 13/05/2018 | 15:00 | Crystal Palace v West Bromwich Albion |