Simba
We learned from Confederation and Mapinduzi Cup exit says Djuma
11:07 AM GMT+8
26/01/2018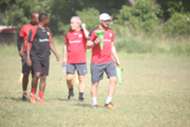 Simba's Burundian Assistant Coach, Masoud Djuma has revealed that the current good performance of his side in the premier league is down to the early exit from the Azam Sports Federation Cup (ASFC) and poor performance in the recent Mapinduzi Cup.
Speaking to Goal Djuma said that his side has learnt a lesson from their early exit from the Confederation Cup and dismal performance in the Mapinduzi Cup and that is why they have rectified their mistakes and turned their focus on to the league title which is their only hope left this season.
"We made mistakes in the two tournaments and we broke our supporter's hearts, so now we need to put all our strength and effort in the league".
Djuma urged the club's  supporters  to continue supporting the team so as to boost the players morale and spirit in the fight  for the title  because  he believes  that  by doing so the club's  ambitions will be met.