WTF
WATCH: Ronaldinho meets NBA All-Stars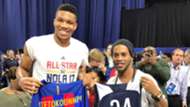 Sporting worlds collided this weekend as Ronaldinho met several NBA All-Stars while enjoying the festivities of NBA All-Star weekend in New Orleans.
Reigning NBA champion LeBron James was all business with the former Brazil star, while Milwaukee Bucks' rising star Giannis Antetokounmpo tells 'Dinho that he's a "big fan" before initiating a jersey swap.
Golden State Warriors forward Kevin Durant bows to Ronaldinho before going in for a hug. Durant's teammate, Klay Thompson, tells Ronaldinho he watched him play "all the time" before inviting the newly minted Barcelona ambassador to a Warriors game.
NBA superstar Curry receives Barca jersey
But none of their levels of excitement match that of Memphis Grizzlies center and former FC Barcelona basketball player Marc Gasol. 
"The meeting with Roni was spectacular," the Spain international said. "He's a reference point in the world of sport, a standard, a star, a Barcelona legend. I'm very happy and excited."
Long slog ahead for Luis Enrique
Ronaldinho already has plans for the gifts he received from Warriors guard Stephen Curry, saying that they were headed for his museum alongside items from Michael Jordan and Kobe Bryant.
Watch below to see Ronaldinho interact with the best the NBA has to offer: