HiFL
WATCH: Premier Cool HiFL freestyle challenge in Lagos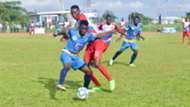 Premier HiFL freestyle challenge made a stop at the Lagos State University Sports Complex on September 11 for the return leg of the quarter-final fixture between OAU Giants and LASU Blazers.
Although the Giants bowed to a 2-1 loss in Lagos, they progressed into the semi-final of the Higher Institution Football League with a 3-2 aggregate score.
Just as both teams were battling for superiority, fans were involved in a more challenging and rewarding contest as they proved their football skills.
Prior to the outing in Lagos, football enthusiasts in Ile-Ife joined in the challenge as OAU Giants cruised to a 2-0 win over the Blazers.
Watch the challenge below:
Premier Cool are proud sponsors of the Higher Institution Football League (HiFL).