David Villa
WATCH: Video replay ruling sees David Villa sent off
12:08 PM GMT+8
19/02/2017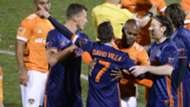 Video replay cost David Villa some time on the pitch Saturday night. 
The New York City FC striker was caught delivering a little tap to the face of Houston Dynamo defender A.J. DeLaGarza as the two grappled in the box during a corner for NYCFC. 
USA under-20s fall flat in loss
DeLaGarza sold the slap, diving to the ground, and initially Villa was handed a yellow card. 
But the video replay system being trialed by Major League Soccer this preseason allows for officials to review plays that involve goals and potential red cards, and after review Villa was shown his marching orders. 
You can see the full incident at the 42:50 mark of the video above.