Wataru Murofushi
Wataru Murofushi is Albirex Niigata's captain marvel
10:13 AM GMT+8
10/06/2018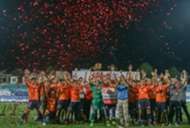 Composed, calm and balanced. Not once did SPL (Singapore Premier League) champions, Albirex Niigata feel flustered as they came up against a confident Home United side that had just earned back to back wins.  It seemed although as if The White Swans knew that they were going to unlock a stubborn Home United defence marshalled expertly by Abdil Qaiyyim. The game at the Jurong East stadium was cagey and cautious especially in the first half yet Albirex were carefree and patient, keeping hold of possession waiting for the moment to strike.
If there was ever a man that encapsulated their performance it was captain Wataru Murofushi who was an extension of his side's supreme confidence in their abilities. Never mind the fact that he was harried by an energetic Izzdin Shafiq, Murofushi never once flinched and again proved why he is such a vital cog in his team's dominance of Singapore's top flight league. The diminutive playmaker kept his side ticking, his ability on the ball second to none as he sprayed passes all over the field causing massive problems for the away side.
Murofushi was a metronome in midfield last night; he dominated the crucial midfield battle and led his side to victory. But there's more to the Japanese than just his playmaking abilities, it must be said that his fitness is just on another level as he kept running while his opponents began to tire. Here is a man who continues to demonstrate exemplary qualities of what a footballer should possess. The Protectors soon found themselves frustrated and began resorting to rash challenges in order to the 23 year old.
Yet it was to no avail as they simply had no answer to his quick and feet and more importantly sharp thinking. His neat interplay with his forwards unlocked Home's United defence as they scored the first goal and soon the floodgates began to open. Two more goals were added to cap off Albirex's 11th wins in as many games.  Indeed the Japanese side are destined to win the league without a shred of a doubt but it's hard to argue that they do not deserve it.  Adam Swandi once mentioned how his captain gives everyone a lift when the team is confronted with difficult moments in the game. He leads from the front and keeps driving the team forward. It's safe to say that could be the reason why come the end of the season Murofushi could be lifting the SPL trophy.