Malaysia
Vingada ready to work and bring joy back to Malaysian football fans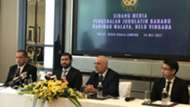 Football Association of Malaysia (FAM) today officially unveiled the new head coach of Malaysia, Nelo Vingada and the former Asian Cup winning coach wants to see a critical element being installed back into the Harimau Malaya.
The 64-year-old met the press together with HRH Tunku Ismail Sultan Ibrahim (TMJ), FAM secretary-general Datuk Hamidin Amin and Tan Cheng Hoe - divulging his plans for the national team, the third Asian national team that he has taken charge of after Saudi Arabia and Jordan.
"It's my great pleasure and honour to be here. Thank you Tunku for giving me the great honour to help. Of course now Malaysia will be in my heart. It'll my second country. Of course being Portuguese is my blood and family, will always be number one. Our team will be the most important thing."
"With the help and support of HRH, I believe that with the qualities of players - we need to work hard, we can bring the pride to play for the national team to another level. I'm not the kind of person that promise result because result comes with work.
"For sure now, my first target is to bring again the pride back to the national team. Tan will of course be working with me. I will also bring two Portuguese coaches with me," said Vingada in his opening address.
When asked, Vingada spoke honestly that while he does not come into the job with complete knowledge of the game or players here - he knows that he has a set of backroom staff that he can rely on to make things work.
"To be honest, now I don't know too much about Malaysian football. Of course, I was following the results, especially the last few one. But now we are here with a clear vision for the future. What is done is done. What I did in my past in a lot of countries is done."
"The main target is the game that is coming soon against Lebanon. There's not too much time but with the support of the staff, I believe we can make a good cooperation and be as strong as we can.
"Coach Tan is now one of the members of my staffs. We'll be like a brother inside this family. Him being Malaysian, he knows the players and has done well with his club as well. not only the technical staff, there are also others who will be important for the targets we want," added Vingada.
The Portuguese also went on to explain that his game philosophy will depend on the players that he gathers, noting that he doesn't have a fixed tactic or game plan that he must use wherever he goes. Although Vingada did highlight several key aspects that he would like to have from this squad of players.
"The philosophy of my football is according to the level and capacity of my players. I can tell you that I don't have anything in my mind that my team have to play this style or system."
"Of course in my mind, I like some kind of characteristics. I like fast players, no fear to face one against one, strong mentality and a winner philosophy. I want my players to believe that everything in football is possible," explained Vingada
​Given that national team coaches do not have the luxury of working with the players on a day to day basis, Vingada is not unduly perturbed by that and he wants to make full use of all the time that he can get with the squad. 
"If you ask any coach, never the time is enough. Mourinho was my student since he was a young kid, his father was my coach. He's telling that he needs two years to build the team that he really wants and with 200 - 300 million to buy the players he want."
"Time in football is something that we cannot have and time is short for any coach. I believe that in September when we have more time to work, maybe we can show a bit different situation than now," said Vingada.
The players for the very first squad that is assembled under Vingada's tutelage will report for duty at the end of the month, with any Johor Darul Ta'zim players called up, reporting after their AFC Cup commitments. 
"We'll gather on 28th and the training will start on 29th. We know Johor will play on the 31st but they will join after their trip to Philippines. On the 2 June, everyone will be there," told Vingada.
Malaysian fans are hungry for better days, especially after the manner in which the national team made an early exit in the 2016 AFF Suzuki Cup. The spotlight now falls on Nelo Vingada and the hope is that the Portuguese can put the joy back into the fans.