Videos
VIDEO: Xabi Alonso scores from 70 yards for Liverpool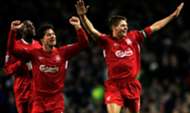 Xabi Alonso doesn't do tap-ins.
The Spaniard's retirement announcement was followed by a flood of well wishes and memories of some of his finer moments on the pitch.
Xabi Alonso should go down as a great
One of those was an incedible 70-yard strike with which he scored in Liverpool's 5-3 victory over Luton in the FA Cup in 2006.
Having already scored from 40 yards in the fixture, and with the game at 4-3, Alonso took advantage of the opposition 'keeper who had gone up for a corner in search of an equaliser.
As the ball was half-cleared, however, Alonso effortlessly drove the ball into the back of the net from his own half.
Congratulations to @XabiAlonso on an incredible career – and one of our most memorable goals! #emiratesfacup pic.twitter.com/X8R3VrJ5lh

— The Emirates FA Cup (@EmiratesFACup) March 9, 2017
Watch the goal and share your favourite moments from the Spaniard's illustrious career!