Videos
VIDEO: Team throws almighty tantrum and refuses to play in penalty protest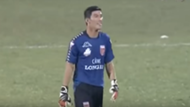 As late football drama goes, it's hard to get more bizarre than this!
'Magical' Coutinho Liverpool's key to success - Gerrard
During a tie between hosts Long An FC and visitors Ho Chi Minh City in the Vietnamese top flight, a refereeing decision late in the game was followed by a protest from the home side.
As the game drew to a close, tied at 2-2, the referee awarded a late penalty to the away team, to the rabid perplexion of Long An FC's players.
In response, goalkeeper Nguyen Minh Nhut was ordered by his team to allow Victor Ormazabal to score from penalty spot, turning his back as it was taken. 
Long An FC were so angry, in fact, that they allowed the visitors to score again, standing still as Ormazabal strolled through his onlooking opponents before slotting past Nhut, who added to the action with a hilarious front roll.
He did one better moments later, as he casually left his goal to allow the visitors to conclude the scoring and win the game 5-2. Watch the bonkers drama unfold in the video above!