Videos
VIDEO: Rojas' cheeky chip seals victory for Cruz Azul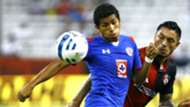 Was it a cross? Was it a shot? Joao Rojas didn't seem to care when his lobbed effort found the net.
Shearer: Not easy to force Rooney out
The Cruz Azul midfielder put his side 2-0 up over Chiapas in a Liga MX fixture on Saturday with a delicate effort over the visiting goalkeeper.
It capped a dramatic 10 minutes, in which Gabriel Penalba missed a penalty and Angel Mena opened the scoring moments earlier.
While his cheeky chip sealed victory for his side, the night was to finish on a low note for the Ecuadorian, as he was dismissed for seeing a second yellow card five minutes from time.