Bayern München
VIDEO: Bayern Munich's clever Friends tribute
12:52 AM GMT+8
26/03/2017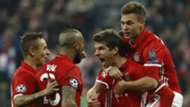 The One with the 5-1. The Other One with the 5-1. The One where we knocked out Arsenal. If Bayern Munich matches were Friends episodes, they would have titles like those!
The Bundesliga leaders are in impressive form domestically and in the Champions League this season, and continued their upbeat season with a clever online tribute to the biggest television programme of the 90s and 00s.
Mourinho explains Croatia trip
Friends ran from 1994 to 2004 over 10 seasons, with its final episode being the fourth highest watched in TV history. With the international week currently underway, Bayern Munich decided to make their own tribute to the show's iconic opening credits, complete with the famous theme song from the Rembrandts.
Check out this clip of the #FCBayern boys, "Friends" style! pic.twitter.com/AKYV053gr4

— FC Bayern English (@FCBayernEN) March 25, 2017
Thomas Muller, Philipp Lahm, Mats Hummels all star in the video, but the true hero is goalkeeper Manuel Neuer, who hits himself in the face with the ball!
Check out the clever clip above. It probably won't have 52.5 million viewers like the Friends finale, but it's just as entertaining!
We were on an international break!