Marco Verratti
Verratti vows to stay at Paris Saint-Germain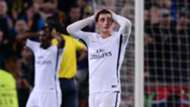 Marco Verratti says he will remain at Paris Saint-Germain next season despite his agent suggesting he will have to leave to achieve success.
Mourinho explains Croatia trip
The midfielder has won four Ligue 1 titles since joining the French side from Pescara, but his side are yet to cement themselves among Europe's elite as they continue to fail to progress beyond the quarter-finals.
Verratti, 24, has been linked to a move to Barcelona, Juventus, Chelsea and Manchester United and representative Donato Di Campli stated he must "make up his mind: does he want to earn a lot without winning anything or lift trophies and become a champion?" 
But Verratti says there is still progress to be made, telling RMC: "Paris has an important project and I think I will stay at PSG next season."
The Italy international was part of the PSG squad which saw a 4-0 first-leg advantage overturned in a 6-1 loss to Barcelona in the return game of their Champions League last-16 tie.
Portugal's €180m talents struggling
Luis Enrique's side became the first to overturn such a deficit in the competition and Verratti admits it was a horrifying experience.
"We learn a lot from defeats," he said. "The Barcelona match was a huge disappointment. From a personal point of view, it's one of the worst nights of my life. But it made me understand that it was always necessary to give everything."