Liverpool
VARce! Pathetic Liverpool's wait for a trophy will be painfully long if they don't find their feet fast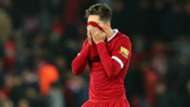 Jurgen Klopp was a rare approver of Saturday's 19:45 kick off time, suggesting that Liverpool supporters could head out of Anfield and into town for a night out if they fancied it.
But there was no need for anyone to contemplate extra entertainment given that within half-an-hour against West Bromwich Albion, two cracking goals had been scored, with VAR disallowing another for the visitors before awarding a penalty for a foul on Mohamed Salah.
Roberto Firmino took the spot-kick after a waiting period of around three minutes, but could only connect with the underside of the bar. If that wasn't wild enough, the new technology was consulted for a third time before the break, when Joel Matip's own goal stood making Alan Pardew's men the first team to score thrice at Anfield in the first half since Real Madrid in October 2014.
VAR in theory is a good idea, but the implementation was heavily flawed: there was no communication around each process, too much time taken with every decision and it was not used sparingly.
It was such a baffling evening on Merseyside that even the scoreboard erred for a while, suggesting the FA Cup fourth-round tie was even at 2-2, when West Brom had just extended their advantage to 3-1. With so much in doubt during the encounter, there was a certainty: Liverpool were utterly appalling.
Firmino's wonderful chip on five minutes provided a rare piece of quality to applaud, but it couldn't be savoured as the hosts ceded possession and were too passive in the centre of the park, with Jay Rodriguez free to smash in past Simon Mignolet.
Four minutes later, he doubled his personal tally after Grzegorz Krychowiak dusted off Emre Can to feed Kieran Gibbs, who delivered a low cross in that the striker converted as Liverpool crumpled.
The Reds midfield resembled an empty car park for large swathes of the game; there were so many spaces for the Baggies to to pick from without any pressure. Can will be hoping that Juventus or any of his other potential suitors opted not to tune in or, if they did, that were too caught up in the VAR commotion to notice his muddled showing.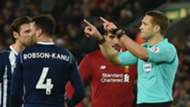 Alex Oxlade Chamberlain registered 17 passes in total, less than Mignolet, and Gini Wijnaldum wasn't much less anonymous. The trio had plenty of company in the putrid performance category, and in fact, perhaps only Sadio Mane, Firmino and Salah of the starters can feel they weren't as shambolic as the rest of the XI.
"In the decisive parts of the game around the goals it was poor," Klopp said. "Bad defending. Bad defending most of the time means taking the wrong decision." 
Simon Mignolet, switching in for Loris Karius, faced three shots on target and picked the ball out of his net the same amount of times. Liverpool have designs on recruiting a pedigreed goalkeeper in the summer, with Roma's Allison of interest, and it is a position that has desperately needed to be upgraded for years.
Klopp selected his strongest line-up possible as he was intent on progressing in the competition, with Jordan Henderson using his matchday programme notes to impress how deep the desire is in the dressing room to win trophies. 
That did not translate on the pitch and Liverpool have now turned in two abysmal displays in succession after making "the right statement" in the 4-3 victory over Manchester City.
The Reds boss has continuously insisted he is happy with his options and there is no pressing need for the club to enhance their roster before the January deadline, but the manner of the defeats against Swansea and West Brom strongly suggest otherwise.
Liverpool are in danger of desecrating the platform they've built for the season and need to rediscover their direction fast or face further dejection domestically and on the continent.