United States
USMNT vs Colombia: Projecting Sarachan's starting XI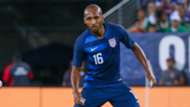 When the U.S. national team took the unusual step of announcing it's roster for the October friendlies a week earlier than usual, it provided an exciting glimpse of the future. Christian Pulisic, Weston McKennie and Tyler Adams were all on the list and the trio regarded as the midfield of the future was going to get its chance to play together for just the second time ever.
Injuries spoiled that scenario completely, with all three young midfielders suffering knocks with their clubs and forced to withdraw from the U.S. squad set to face Colombia and Mexico. It's a scenario that has left interim U.S. coach Dave Sarachan with a midfield to rebuild, but with plenty of options to turn to.
Enter Michael Bradley, the polarizing former U.S. captain who had spent almost a year away from the team after the USMNT's failure to qualify for the World Cup. When he was first named to the squad, Bradley probably wasn't expected to come in and start, but now given the circumstances you have to think the Toronto FC standout will slide right back into the U.S. starting lineup to help lead a squad that will be very young even if both he and Brad Guzan get starting nods.
Given Colombia's stature as the tougher of the two opponents the Americans are set to face — not that Peru will be a cakewalk next week — it is a safe bet we see an older overall lineup on Thursday in Tampa than we see a week later against the Peruvians.
WIth that in mind, here's a look at the lineup Sarachan could turn to against Colombia:
---
GOALKEEPER
---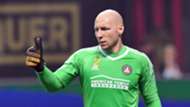 Zack Steffen has done an excellent job since settling into the starting role earlier this year, but Guzan has been brought in to push him for that starting job and should be in the lineup for one of the two friendlies.
---
DEFENDERS
---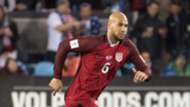 John Brooks is back and should return to the starting lineup given his excellent form in the Bundesliga with Wolfsburg. Sarachan should partner Brooks with Matt Miazga once again after their solid showing together in the loss against Brazil.
At fullback, DeAndre Yedlin should slide right into his usual starting role while Antonee Robinson earns another start at left back. FC Dallas right back Reggie Cannon is a player who merits a look, but it's tough to see him starting in the first match of his first camp. The same can be said for Ben Sweat, even though he's an older player than Cannon.
---
MIDFIELDERS
---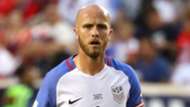 The absences of Pulisic, McKennie and Adams are a big blow for these particular friendlies, but Sarachan has a few different ways he can go in building his midfield. A logical approach would be to give Julian Green a starting nod in an attacking midfielder role. There isn't much established depth behind Pulisic in the USMNT attacking midfielder depth chart, and Green has settled into that role for his club team and looked good in that role coming off the bench in the September win against Mexico.
Will Sarachan give someone like Kellyn Acosta a look next to Wil Trapp in the center of the midfield, or will he give Bradley a chance to step right back into the starting lineup and form what could be a solid combination with Trapp? Sarachan could choose to start Acosta centrally, and deploy Green on the wing, but it doesn't seem too likely that Sarachan starts out that way.
On the wings, Kenny Saief is an intriguing option who should get some serious playing time in the upcoming friendlies. He can play on the wing, or as an attacking midfielder and could wind up being preferred to Green in that role. Tim Weah has struggled for playing time at Paris Saint Germain, but he should get another look in the starting lineup in at least one of the upcoming friendlies.
One winger to keep tabs of is Jonathan Amon, a speedy wide player with a real penchant for taking on, and beating, opposing defenders. This is his first national team camp though, so a start against Colombia is probably a bit too ambitious, though he does have the talent to become a special player for the USMNT.
---
FORWARDS
---
Fresh off a two-goal performance for Bundesliga side Hannover, Bobby Wood comes into camp with some real confidence and, as much as plenty of fans would love to see Josh Sargent or Andrija Novakovich get a look, Wood should be the starter against Colombia.
Novakovich has made a strong case for deserving more national team minutes given his run of form with Dutch side Fortuna Sittard, so look for him to see time in both October friendlies, even if he may have to wait a bit longer to earn a start.
Sargent is a very intriguing option given how well he is playing for Werder Bremen's U-23 team. He's turning heads and moving closer to a first-team debut, but his goal-scoring success with the Bremen U-23s should have him in a very confident mood in what is just his second USMNT camp.
---
4-2-3-1 (Most likely XI)
---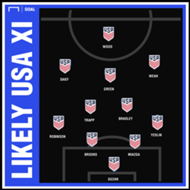 A 4-2-3-1 makes the most sense given the personnel available and the opponent. The USMNT will need the extra bodies in midfield to try and cope with Colombia's skilled attackers. We should be able to see more of a 4-4-2 later in the match. Getting Novakovich and Sargent on the field should be a priority, even if they don't start.
How effective will Bradley be? Trapp is a good partner for him in central midfield given how disciplined he is positionally. He also excels at putting himself in good spots to receive passes and circulating the ball.
A Trapp-Acosta central tandem would also be interesting to watch. Acosta is playing for an awful Colorado Rapids team, but he has actually gained confidence and improved his form since being traded away by FC Dallas. Hopefully for Acosta's sake, Sarachan doesn't deploy him on the wing again.