United States
U.S. players react to Klinsmann's firing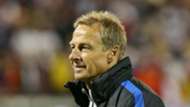 Following Monday's news that U.S. Soccer has fired head coach and technical director Jurgen Klinsmann, several current and former national team players took to Twitter to react.
Unsurprisingly, Sporting Kansas City midfielder Benny Feilhaber, who has been frozen out and criticized by Klinsmann despite stellar form in MLS, was hardly distraught at the decision.
 

— Benny Feilhaber (@b_feilhaber22) November 21, 2016
Former national team defender Jimmy Conrad, now a media personality, also shed very few tears upon learning of Klinsmann's firing. 
Auf wiedersehen.

— Jimmy Conrad (@JimmyConrad) November 21, 2016
Meanwhile Borussia Dortmund's Joe Gyau, who made his debut under Klinsmann and only recently returned from a devastating knee injury, had much kinder words.
When he genuinely cared for the players..If it wasn't for him and his support I wouldn't have been able to get some of the rehab for my knee

— Joe Gyau (@36finest) November 21, 2016
Called me into my first camp ever and started me and I played 90 minutes. Even after I got hurt still checked on me every month for 1.5 yrs

— Joe Gyau (@36finest) November 21, 2016
The player most tied with Klinsmann's tenure with the national team, though, refused to dance on the German coach's grave. 
Never want to see someone lose their job. I have no doubt that this talented group of players will qualify for Russia '18 #USA 

— Landon Donovan (@landondonovan) November 21, 2016