Manchester United
Uefalona, cows, prostitutes and Mourinho's Top 10 excuses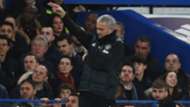 Jose Mourinho just couldn't let the marginal offside call against Zlatan Ibrahimovic go. Manchester United's 1-1 draw against Everton featured some of the most directionless football exhibited at Old Trafford in many a year, yet the Portuguese just couldn't take it on the chin without pointing a finger or two.
"They fought until the last second, and with the VAR we win the game 2-1 because it was not offside. It is difficult for the linesman but I just say when the VAR comes it will help everyone, especially them."
The VAR, of course, is the video assistant referee which has been tentatively trialled since the Club World Cup in Japan in December. Judging by its clunky early use full implementation is a long way off yet, but Jose wasn't about to let that small matter stand in the way of a good moan.
Shaw desperate to prove Mourinho wrong
But it was typical of Mourinho. Nobody is safe when it comes to potential fall-guys if he has a negative result to explain away, and Goal has one of its more difficult tasks in narrowing down his many gripes to a round 10 below.
---
A MAKE-BELIEVE COW
---
After a defeat at Newcastle in 2014, Mourinho likened the Magpies' tactics to using a cow instead of a football as the St James' Park ball boys were slow in restarting play with their side leading.
"You may as well put a cow in the middle of the pitch. And then stop the game because there was a cow," he raved. "You cannot do just anything in football. You have to defend with your 10 men, put the 10 men on the goal line, park the bus, but football needs a ball. Not two or zero. Do what you can to win but not everything.
"Sometimes there were zero balls and that cuts the dynamic of the team who is trying to win the game."
---
LOUIS VAN GAAL
---
Mourinho didn't take long to speak up about the need to train bad habits out of Louis van Gaal's former players. "My teams are different to Mr. Van Gaal, and it is a difficult situation to change the dynamics. It would be easier for me to have 20 new players and start from zero."
And after United lost three games in eight days in September, he was soon underlining the need to retrain players, citing Luke Shaw's poor positional instincts. That particular case still has some legs too, judging by his "his body, my brain" comments after Tuesday's draw.
---
FLOODLIGHTS
---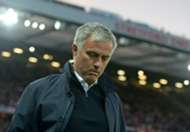 Chelsea might have overcome QPR 2-1 in 2014, but Mourinho took a pot-shot at the floodlight operators for the slow response to a darkening autumn evening during the first half at Stamford Bridge.
"I think the man responsible for the lights was in the same mood as the crowd because everyone was sleeping. It took him 20 minutes to understand that it was dark, but it took me 30 minutes to understand that the stadium was not empty. When we scored was when I realised the stadium was full."
---
THE PHYSIO
---
The infamous case of Jose Mourinho v Eva Carneiro began on the opening day of the 2015-16 season when the Gibraltarian physio entered the field of play to tend to an injured Eden Hazard with Chelsea already short-handed following Thibaut Courtois' sending-off.
"If you go to the pitch to assist a player, then you must be sure that a player has a serious problem. I was sure that Eden didn't have a serious problem. He had a knock and was very tired," said Mourinho. "My medical department left me with eight fit outfield players in a counter attack after a set piece and we were worried we didn't have enough players left."
The bust-up with Carneiro would eventually lead to her being released by the club, before she filed a case for constructive dismissal. The matter was settled out of court after the second day of an employment tribunal.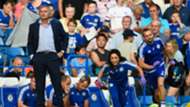 ---
THE PITCH
---
The playing surface has been a regular gripe of Mourinho's, and not just when they have travelled to the likes of Odessa and Rostov for Europa League fixtures in questionable conditions.
"The surface was bad and dangerous," said the then-Chelsea boss after John Terry was ruled out of a key clash in 2015 due to an ankle injury suffered in a win at Maccabi Tel-Aviv, while he hasn't been shy in criticising the Wembley pitch in recent years.
"The pitch was a disaster, so slow, the weather didn't help too," he said after the Blues' 1-0 Community Shield loss to Arsenal in 2015, and 12 months later he blamed the same surface for Marouane Fellaini's poor backpass which teed up Leicester's equaliser in the same fixture against United.
RUMOURS: Pep & Mou contact Alexis
"I think it's the mistake of the slow pitch," he told MUTV. "Before the game starts I put my hand on the surface and I thought: 'Wow, we are in trouble because we want a fast pitch and the pitch is really slow.'"
He has complained about his own pitches too. "The play was not good, but I'm satisfied; the team was tired, we were up against a rival with nothing to lose - and we were playing on a potato field," he explained after a 3-0 win over Espanyol when with Real Madrid.
---
KNOW-NOTHING REPORTERS
---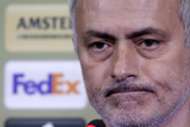 BBC reporter Martin Fisher bore the brunt of Mourinho's ire after United's 0-0 home draw with Hull City in February. The Portuguese had needed some coaxing to break beyond one-word answers, but when Fisher asked the manager what his particular gripe with the referee was, Jose replied: "Well if you don't know football you shouldn't be with a microphone in your hand," before marching away.
It was a similar rant to the one which had followed an enquiry behind his decision to bring on Fellaini late on against Everton in December, only for the Belgian to concede a last-minute penalty which denied United the win.
"I thought you would know more about football than you do because the answer is obvious. Everton do not play beautiful football any more. They are now direct. Their style is direct. Williams is direct. Everything is direct and, when they are losing, they intensify their directness. When you have a player who is two metres [tall], you bring him on to deal with that."
---
JAMIE REDKNAPP
---
Chelsea's greatest involvement in the 2013-14 title race was to deliver the backs-to-the-wall 2-0 win at Anfield which ultimately denied Liverpool a first Premier League trophy, but when Mourinho was asked by Sky TV after the game to explain his ultra-defensive tactics he insisted on deflecting the criticism.
"You speak with Jamie Redknapp and he tells you everything about it," he said, referring to the former Liverpool midfielder, who had previously criticised Mourinho's style of play. "It was about winning - you have your pundits and Jamie Redknapp, who is a brilliant football brain, they can explain to you everything."
---
UEFA-LONA
---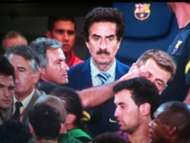 After seeing defender Pepe sent off in a Champions League semi-final for Madrid against Barcelona, Mourinho demanded an answer for what he saw as UEFA favouritism towards the Catalans from a string of referees.
How Griezmann became a Man Utd target
"If I tell Uefa what I really think and feel, my career would end now," he blasted. "Instead I will just ask a question to which I hope one day to get a response: Why? Why? Why Ovrebo? Why Busacca? Why De Bleeckere? Why Stark? Why? Because every semi-final the same things happen. We are talking about an absolutely fantastic football team, so why do they need that? Why?
"I don't know if it is the Unicef sponsorship or if it is because they are nice guys. I don't understand. Congratulations to Barcelona on being a great team and congratulations for all the other stuff you have which must be very hard to achieve. They have power and we have no chance."
---
INTELLECTUAL PROSTITUTES
---
After his Inter side had drawn 3-3 with Roma in 2009, Mourinho wasn't about to let the media question him about Mario Balotelli's apparent dive to win a penalty when the Nerazzurri trailed 3-1. Instead he went on a lengthy rant against agendas in the media, citing "intellectual prostitution" and asking why everyone talked ill of runaway leaders Inter yet spoke well of Roma, Milan and Juventus, teams he picked off one-by-one in what became known as his "zeru tituli" speech.
---
HIS OWN PLAYERS
---
The criticisms of his attackers at the weekend and Luke Shaw's understanding of the game on Tuesday are nothing new. He has regularly outed his own players in a bid to shield himself from blame.
With Gonzalo Higuain out injured during his spell as Madrid boss, Mourinho bemoaned the need to play Karim Benzema instead. "If I can't hunt with a dog, I will hunt with a cat. With a dog, you hunt more and you hunt better. But if you have not got a dog and you have got a cat, you hunt with a cat."
He would later court controversy in his final days as Chelsea boss by claiming to have been betrayed by his squad.
"I feel my work is betrayed," he said. "I worked for four days in training for this match. I identified four movements where Leicester score a lot of their goals, and in two of the four situations I identified they scored their goals. I went through it all with the players, you can ask them."