Barcelona v Liverpool
UEFA Champions League Special: Barcelona's lethal strike force
11:33 AM GMT+8
30/04/2019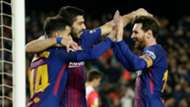 Barcelona are all set to take on Liverpool in the semifinals of the UEFA Champions League this week.
The Blaugrana last reached the final of the continental competition in 2015 and now have a chance to win the coveted title yet again.
While Liverpool are difficult opponents who boast of a sturdy defence led by Virgil Van Dijk, Barcelona's attack is as mesmerising as they come.
Led by the mercurial Lionel Messi, capably assisted by Luis Suarez and Philippe Coutinho, Barcelona have the ability to hurt any team's defence. An inch of space or leeway is all Barca's front three require to breach opposition defences.
The trio have scored 13 goals between themselves.
Here we feature the best goals from the fabuous front three: